U.S. Stimulus Talks Grind On; No Deal Yet Despite Trump Urging By Bloomberg
© Bloomberg. Nancy Pelosi
(Bloomberg) — House Speaker Nancy Pelosi and Treasury Secretary Steven Mnuchin engaged in another round of virus stimulus talks Monday with no sign they are close to deal, despite the urging of President Donald Trump to get it done.
The two negotiators have maintained talks by telephone since last week when they met in person for the first time since early August. They're attempting to bridge a still-yawning gap between the Democratic $2.2 trillion proposal and a $1.6 trillion White House offer.
While Trump's infection with Covid-19 and his tweet from the hospital on Saturday pressing negotiators to "get it done" had raised hopes that the administration would endorse a bigger package and reach agreement with Democrats, the timeline is increasingly compressed as Election Day looms.
Pelosi and Mnuchin spoke by phone for one hour on Monday and plan to speak again on Tuesday, according to Drew Hammill, a Pelosi spokesman. They discussed spending amounts and will exchange written proposals, Hammill said.
Even if the two sides agree on an outline in the coming days, it would likely take Congress two weeks to write the bill, return from recess, overcome Senate delays and pass the legislation. That would mean weeks more until benefits like the $1,200 direct payments both sides agree on for most Americans hit individuals bank accounts.
The stock market climbed on Monday nevertheless, with the S&P 500 Index up 1.4% as of 12:30 p.m.
Meadows's Caution
White House Chief of Staff Mark Meadows — referred to even in the administration as the "bad cop" operative in the stimulus talks — on Monday said the president wants the bill to be "fiscally responsible." That suggested the conservative staffer may still resist a further move toward Pelosi's bigger package.
"There are a lot of people that continue to hurt, are waiting on stimulus, and the president's committed to getting a deal done," Meadows said. "He wants to make sure we move expeditiously — but also in a fiscally responsible manner."
Meadows suggested that Pelosi should agree to pass parts of the stimulus in a piecemeal fashion, something she has largely resisted doing, with exceptions for failed attempts to enact airline and Postal Service relief.
Pelosi said Sunday on CBS that an agreement "just depends on if they understand what we have to do to crush the virus."
Renewed Optimism
The comments were less upbeat than remarks Pelosi made on Friday suggesting that Trump's diagnosis would "change the dynamic" of the talks and prompt the GOP to be more generous in its offers.
That thinking helped prompt renewed optimism from investors and analysts alike who had in recent days increasingly abandoned expectations for an agreement by the Nov. 3 election.
"We were close to giving up on our assumption that lawmakers would agree to $1.5 trillion in new fiscal support. But, for the time being we will hold onto this assumption," wrote Moody's Analytics economist Mark Zandi in a note to clients Sunday.
The optimism in the equities markets may perversely take pressure off of lawmakers to come to deal, all the more so with the president cheering the market rally. In tweets on Monday, he highlighted how 401(k) retirement accounts have swelled thanks to stock-price appreciation in his term. The market "is getting ready to break its all time high," he tweeted.
2008 Stimulus
In the last major economic catastrophe, the 2008 financial crisis, it took a sudden market meltdown to jolt congressional Republicans into action, at at time when the nation also was weeks away from a presidential election.
The Bush administration's $700 billion Wall Street bailout plan initially failed in the House, amid overwhelming Republican opposition, triggering a selloff as the vote was underway and a 778-point plunge in the Dow, then the largest one-day point drop in history.
The fear pulsing through markets provoked a furious response against Republican lawmakers, with the normally closely aligned U.S. Chamber of Commerce among those warning it would retaliate against them. By the end of the week, the House passed a revised version of the bailout.
The current standoff comes even as most economists continue to call for a substantial injection of fiscal stimulus to jolt the economy.
"I really think that fiscal policy support is important if we're going to avoid widespread employment cuts beyond what we've already seen," Federal Reserve Bank of Chicago President Charles Evans said Monday.
Evans also said that the impact of waning fiscal support is already being felt. He spoke three days after a government report showed that monthly payroll gains had slowed sharply in September, to the weakest since the job market began recovering in May.
©2020 Bloomberg L.P.
Gulf states seek Israeli missile defense systems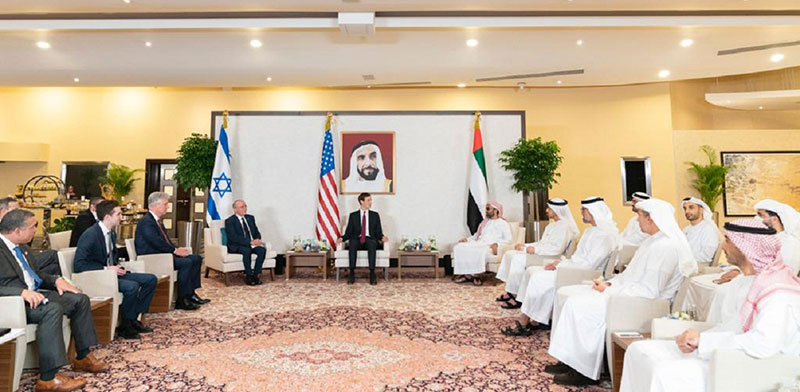 The dilemma of sales of Israeli-made arms and defense technologies has sharpened with the signing of the peace agreements with the UAE and Bahrain, and soon with Sudan. These agreements, it is estimated, should lead to substantial growth in defense exports to the Gulf states, which are among the world's largest weapons purchasers.
The dilemma will shortly reach a very significant juncture. Sources inform "Globes" that several Gulf states have expressed initial interest in buying electronic missile defense systems from Israel, as well as actual military hardware to defend oil installations against missile attack. According to a source familiar with the matter, the contacts are only at a preliminary stage.
Interest has been expressed in Rafael Advanced Defense Systems Ltd.'s Trophy active protection system for armored vehicles, and in systems for defense against missiles fired from drones, covering radar and other detection systems, electronic interference systems, and physical interception missiles.
These contacts are taking place against the background of the involvement of the UAE and Saudi Arabia in the civil war in Yemen on the side of the government, against the Houthi rebels, who are supported by Iran. Forces of the Gulf states are fighting in this conflict in the air, on land, and by sea, and the Israeli systems could be very useful.
As far as missile defense is concerned, the interest is understandable after the attack on Saudi Arabian oil installations in September 2019, which was attributed to Iran. That attack put out of action half of Saudi Arabia's oil production capacity for several days. Iranian "suicide" unmanned aerial vehicles and cruise missiles were used in the attack, which played no small part in pushing the Gulf states towards rapprochement with Israel and in their desire for an official alliance against the common enemy, Iran.
If the expression of interest becomes an official approach, then three people will have to decide how to respond – Prime Minister Benjamin Netanyahu, Minister of Defense Benny Gantz, and Minister of Foreign Affairs Gabi Ashkenazi. They will have to make a decision in principle, which will involve ascertaining the stance of the US on the matter, certainly regarding products developed jointly with the US. They will also have to take into account the risk of information on weapons systems being leaked to hostile elements.
According to a defense source, the temptation to sell defensive weapons to the Gulf states is great. It would position Israeli weapons systems in Iran's backyard, and thus realize the huge advantage of the recent peace agreements. "Deployment of Israeli weapons systems, even defensive ones, completely changes the Israel-Iran equation, which up to now has contained a proximate threat only to Israel, through missiles held by Hezbollah and Islamist organizations in the Gaza Strip," the source said.
There is of course the economic aspect as well. According to SIBAT, the International Defense Cooperation Directorate of the Ministry of Defense, Israeli arms exports reached $7.2 billion in 2019. Asia-Pacific countries account for 41% of the toal, Europe 26%, and North America 25%. India is a large importer, as are the Philippines, Sri Lanka, Vietnam, and Azerbaijan (which is currently using Israeli weapons in the conflict with Armenia in Nagorno-Karabakh).
Published by Globes, Israel business news – en.globes.co.il – on October 29, 2020
© Copyright of Globes Publisher Itonut (1983) Ltd. 2020
Goldman money funds' liquidity buffer swells before U.S. election By Reuters
2/2
© Reuters. FILE PHOTO: FILE PHOTO: The ticker symbol and logo for Goldman Sachs is displayed on a screen on the floor at the NYSE in New York
2/2
By Tim McLaughlin
BOSTON (Reuters) – Two Goldman Sachs Group Inc (N:) money-market funds, whipsawed in March by billions of dollars of investor withdrawals, have steadily amassed a liquidity cushion much larger than rivals, as the $4.35 trillion industry braces for the outcome of the U.S. presidential election and another global surge in coronavirus cases.
The funds' weekly liquidity – a barometer of how quickly investments can convert to cash in a week – rose to 85% of total assets this week, according to disclosures https://www.gsam.com/content/gsam/us/en/advisors/fund-center/fund-finder/gs-financial-square-prime-obligations-fund.html#activeTab=holdings by the bank. That is about double the level when Goldman Sachs in March injected nearly $2 billion of the bank's own capital into the funds to prevent them from falling below the regulatory weekly liquidity threshold of 30%.
"We actively manage liquidity in our funds as dictated by the market environment," Goldman said in an email statement.
Average weekly liquidity at about 111 U.S. prime institutional money-market funds, like the Goldman funds, was 66% at the end of September, up from 54% in the year-ago period, a Reuters analysis of U.S. regulatory filings show. Those 111 funds hold about $300 billion in assets, or 9% of the $4.35 trillion in money funds.
Although they are among the tamest investment vehicles, prime funds can be riskier than money-market portfolios that primarily hold U.S. government bonds. The upside is they may offer more yield from holding short-term debt issued by an array of top-rated global banks, for example.
Despite regulatory efforts to make institutional prime money-market funds more resilient in times of stress, they remain vulnerable to massive withdrawals, especially by clients who need cash immediately to meet their own obligations. A U.S. official recently warned that decade-old reforms to the industry may not be enough to avert major outflows during a future crisis.
Stocks have swung significantly in recent days and more volatility is expected in the wake of the U.S. election.
Under new rules put in place after the 2008-2009 financial crisis, prime institutional money-market funds have discretion to block redemptions or to impose fees when weekly liquidity falls below 30%. These funds are susceptible to big, rapid-fire withdrawals by corporations, pensions, sovereign wealth funds and hedge funds, said money fund expert Pete Crane, president of research firm Crane Data.
"These types of investors move quickly," Crane said.
Meanwhile, the 30% liquidity threshold's link to redemption gates has become an area of concern in the money fund industry. Investors see it as a bright line for slowing or blocking withdrawals, even though no fund boards used redemption gates or fees during the height of the March crisis.
A Northern Trust Corp (O:) prime fund twice fell below the 30% threshold, but redemptions were not blocked. The bank, however, liquidated the fund in May.
"The standard of 30 percent weekly liquidity became a new hair trigger," Investment Company Institute President Paul Stevens said this week at a money-market symposium.
And that is what happened during the early days of the coronavirus pandemic. Investors pulled a net $8.1 billion from the GS Financial Square Prime Obligations Fund and the GS Financial Square Money Market Fund , according to Goldman fund disclosures. Weekly liquidity at the GS Financial Square Fund, for example, dropped to 34%, and was poised to fall more, before Goldman stepped in with capital support.
Over the two-week period from March 11 to March 24, net redemptions from publicly-offered prime institutional funds totaled 30 percent of the funds' assets, or about $100 billion, according to an October report released by the Securities and Exchange Commission.
American households who parked their cash in retail prime funds were less twitchy, the SEC says. Withdrawals totaled $33 billion in March, or 7% of assets.
In the months after the first wave of coronavirus cases, some of the biggest players in the U.S. money market industry pulled the plug on prime institutional funds. The preference for funds primarily holding government debt, by institutions and households, has become clear, as assets in these portfolios topped $4 trillion this year.
Boston-based Fidelity Investments, for example, shut down two prime funds in August, even though their liquidity cushion was never threatened, citing the risk of large and frequent redemptions in times of market stress.
Labor Department finalizes U.S. rule curbing sustainable investing by pension funds By Reuters
By Jessica DiNapoli and Ross Kerber
NEW YORK/BOSTON (Reuters) – The U.S. Department of Labor on Friday finalized a rule clarifying that pension fund managers must put retirees' financial interests first when allocating investments, rather than other concerns such as climate change or racial justice.
The move by the department under the administration of U.S. President Donald Trump came ahead of Tuesday's election and represents the latest in a series of efforts to make it harder to use investment assets to address social issues.
Labor officials said that they made "significant changes" to the rule governing roughly $10 trillion in pension plan assets in response to over 1,000 comments they received, many critical.
The main change is that the final rule does not include references to so-called "ESG investing" or picking stocks for environmental, social or governance reasons, officials said. The rule focuses on pecuniary factors, which the department says have a "material" effect on the risk and return of an investment.
Net deposits into ESG funds have soared on growing interest from clients and strong performance, trends cited by critics of the new rule including large asset managers.
In its rulemaking, the Labor Department noted many ESG-themed funds have over-weighted technology and under-weighted energy stocks, suggesting their outperformance could be "merely correlated with broader economic trends unrelated to a specific ESG factor."
Sanford Lewis, director of the Shareholder Rights Group, representing progressive investors who opposed the rule changes, said via e-mail that even as adjusted, the department is still "interfering with ERISA funds from integrating investment strategies consistent with beneficiaries' values."
Marg Franklin, CEO of the CFA Institute, a standard-setting group for investors, said the new rules ran counter to the growing use of ESG factors to judge investment returns and risks.
"The department's agenda to block consideration of anything ESG-related in the investment management process is a political gag order," she said.
Disclaimer:
Fusion Media
would like to remind you that the data contained in this website is not necessarily real-time nor accurate. All CFDs (stocks, indexes, futures) and Forex prices are not provided by exchanges but rather by market makers, and so prices may not be accurate and may differ from the actual market price, meaning prices are indicative and not appropriate for trading purposes. Therefore Fusion Media doesn`t bear any responsibility for any trading losses you might incur as a result of using this data.
Fusion Media or anyone involved with Fusion Media will not accept any liability for loss or damage as a result of reliance on the information including data, quotes, charts and buy/sell signals contained within this website. Please be fully informed regarding the risks and costs associated with trading the financial markets, it is one of the riskiest investment forms possible.