Malaysia's AirAsia X aims to stave off liquidation with $15 billion debt restructure By Reuters
© Reuters. FILE PHOTO: Tail of AirAsia X plane as seen at the Garuda Maintenance Facility AeroAsia in Tangerang
By Liz Lee
KUALA LUMPUR (Reuters) – Malaysia's AirAsia X Bhd (KL:), the long-haul arm of AirAsia Group Bhd (KL:), said it wanted to restructure $15.3 billion of debt and slash its share capital by 90% to continue as a going concern.
Hard hit by the coronavirus pandemic as closed borders have grounded most of its planes, the budget airline said it had severe liquidity constraints and, with no return to normalcy in sight, added, "Imminent default of contractual commitments will precipitate a potential liquidation."
Its statement late on Tuesday came just days after Malaysia Airlines, the other major carrier, said it was very low on cash and had reached out to lessors, creditors and suppliers for urgent restructuring.
AirAsia X is seeking to reconstitute 63.5 billion ringgit ($15.3 billion) of debt into a principal amount of 200 million ringgit and waiver of the rest.
That debt restructuring as well as a revamp of its business model would be needed to raise fresh equity and debt, which in turn would be required to restart the airline, it said.
The statement did not break down the liabilities or name the airline's creditors.
AirAsia X declined to respond to a Reuters' query regarding its debt.
The hefty debt could include aircraft orders, potentially spelling cancellations, said an aviation analyst who declined to be identified as he no longer covers the company.
"A lot of that may be aircraft orders," he said. "The real haircut may not be that huge if it's purely on actual debt and lease commitments."
AirAsia X finalised orders with Airbus SE (PA:) for 78 A330neo and 30 A321XLR planes last year, but said in February it would defer delivery of the A330neo planes and consider other changes to trim its fleet.
The airline is Airbus' biggest customer for the A330neo.
It also proposed reducing issued share capital by 90% and consolidating every 10 existing ordinary shares into one share. Long a penny stock, its shares fell 10% to 4.5 Malaysian cents on Wednesday.
The airline, which reported a record net loss of 650.3 million ringgit in the 2019 financial year, said unaudited records as of June 30 showed it had a shareholder equity deficit of 960 million.
Liabilities of 3.38 billion ringgit exceeded assets of 1.39 billion.
It has appointed board member Lim Kian Onn, a chartered accountant and former banker, as deputy chairman to lead the restructuring, which will involve overhauling its route network, fleet size, cost base and workforce.
($1=4.1510 ringgit)
Disclaimer:
Fusion Media
would like to remind you that the data contained in this website is not necessarily real-time nor accurate. All CFDs (stocks, indexes, futures) and Forex prices are not provided by exchanges but rather by market makers, and so prices may not be accurate and may differ from the actual market price, meaning prices are indicative and not appropriate for trading purposes. Therefore Fusion Media doesn`t bear any responsibility for any trading losses you might incur as a result of using this data.
Fusion Media or anyone involved with Fusion Media will not accept any liability for loss or damage as a result of reliance on the information including data, quotes, charts and buy/sell signals contained within this website. Please be fully informed regarding the risks and costs associated with trading the financial markets, it is one of the riskiest investment forms possible.
Volkswagen: Significant Upside From Closing The EV Gap (OTCMKTS:VLKAF)
Volkswagen (OTCPK:VLKAF) is the leading global auto manufacturer, with strong, longer-term prospects on the back of its broad core product offerings, scale, and improved cost management. It comes as no surprise to me that Volkswagen has been resilient through COVID-19. However, an underappreciated aspect of VW is the fact that it is also the leading legacy auto manufacturer in the electric vehicle (EV) space.
A review of the EV Virtual Tour event strengthens my belief that the potential for VW's EV volumes and contribution to ramp up is currently being ignored by the market. Valuing VW's projected EBITDA contribution from EVs at a Tesla-like (NASDAQ:TSLA) multiple would yield upside of over 40% from current levels.
Closing the Product Gap
VW ambitiously highlighted its plan to reach a c. 3-4% EV share by 2020 and c. 6-8% by 2021 (up from the sub-1% level in 2019) at its EV Virtual Tour event. The target is underpinned by the following core products – VW ID.3, ID.4, Skoda Enyaq, CUPRA el-Born, and the Audi Q4 e-tron.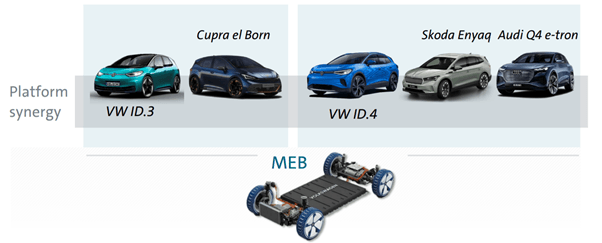 Source: VW Virtual Investors Meeting Slide (E-Mobility)
Interestingly, the ID.3 performs well against peers – according to an ADAC study (cited by VW as seen below), the ID.3 total cost of ownership over a five-year period is c. 12% below that of a Nissan Leaf (OTCPK:NSANY) and c. 21% below that of a Tesla Model 3. Meanwhile, the ID.4 is also expected to price at a c. 16% discount to the Tesla Model Y.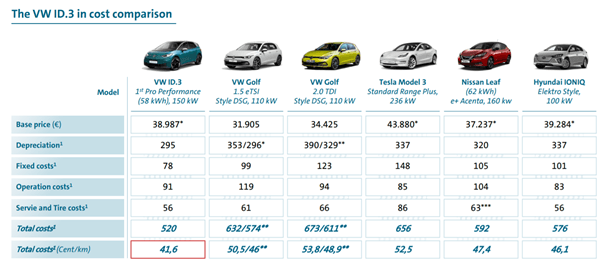 Source: VW Virtual Investors Meeting Slides (ID Sales)
Importantly, VW's first EV (the ID.3) to be built off its MEB platform represents the first of at least six MEB-based models to be launched in the upcoming year. It also means VW's EV product cycle is without precedent and will grant VW the broadest portfolio of BEVs on the market. In other words, competition is coming for Tesla.
Targeting 1 million EVs by 2022/23 and c. 3 million EVs by 2025
In 2022, the goals get even more ambitious – VW is launching the Q5 e-tron, the electric Porsche Macan, and the VW Buzz, which will drive c. 1 million units by 2022 (or 2023 at the latest). If achieved, VW will likely have narrowed (or even closed) the volume gap relative to Tesla.
Looking further ahead to 2025, the company expects to sell up to 3 million EVs/year, which would make it the market leader by far. To achieve this target, VW will require over 150 GWh of batteries in Europe and North America and a similar capacity in Asia. In aggregate, c. 75-80% of EV sales will be contributed by Europe and Mainland China, with Europe set to be the main market at an over 50% share.
Tesla's growth prospects can't be ignored either, but by 2025, VW stands a solid chance of becoming a strong competitor to Tesla. The major strategic difference lies in their focus – Tesla is dependent on the North American market (car and pickup trucks), while VW is focused on selling in China and Europe.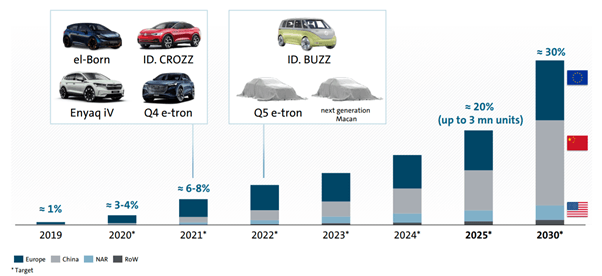 Source: VW Virtual Investors Meeting Slides (Group Sales)
Optimizing the Production Footprint
VW stands to gain from the production side as well – EV production represents an opportunity to streamline the production footprint and move towards multi-brand production plants. By optimizing its production footprint, VW stands to gain from economies of scale. Assuming execution proceeds as planned, VW's Mosel plant could prove to be a major breakthrough in terms of scale, producing Audi, Seat, and VW electrics cars, and highlighting the flexibility in its MEB platform-based production strategy.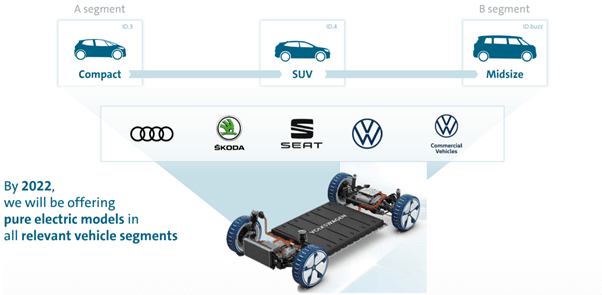 Source: VW Virtual Investors Meeting Slide (E-Mobility)
EVs Could be EPS Accretive
Also notable was VW's confirmation that contribution margins on its EV products are already positive and on par with comparable internal combustion engine (ICE) vehicles. However, operating margins remain subdued due to the high fixed costs and relatively low volumes at present. This should change as VW scales – the ID.4 is expected to match ICE Golf profitability levels, while the Skoda Enyaq should match Octavia profitability, which translates into a c. 3-4% margin for the ID.3 and c. 5-6% for the Enyaq.
While the initial OP margin expectations are modest, I believe EVs can be EPS accretive as VW scales and gains market share going forward. Details are fuzzy at this point, but VW plans to confirm its long-term 2025 group profitability targets with the upcoming planning round. These numbers are crucial – while the quarterly disclosure of EV sales is a step in the right direction, further transparency is key in convincing the market to assign due credit to VW's EV efforts.
Next Step – Closing the Valuation Gap
Like most other legacy auto manufacturers, VW shares are trading at a depressed c. 6x EBITDA multiple, which largely ignores its EV leadership. However, improved transparency and strong execution should eventually drive a re-rating. The opportunity is significant – if we were to value VW's implied EBITDA contribution from the EV lineup at a Tesla-like multiple, for instance, VW shares could be worth upwards of €200/share (over 40% upside to current levels).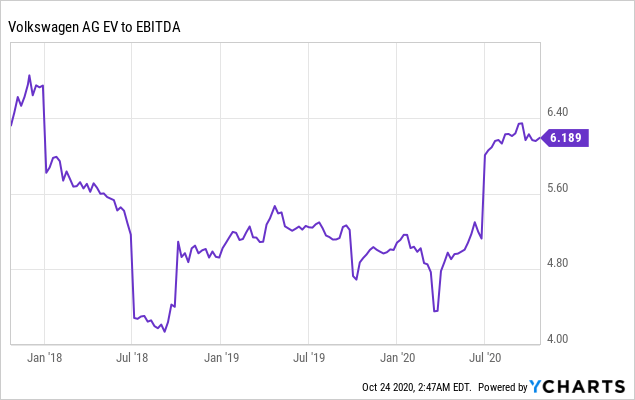 Disclosure: I/we have no positions in any stocks mentioned, and no plans to initiate any positions within the next 72 hours. I wrote this article myself, and it expresses my own opinions. I am not receiving compensation for it (other than from Seeking Alpha). I have no business relationship with any company whose stock is mentioned in this article.
Gulfport Energy Heads Towards Restructuring (NASDAQ:GPOR)
Gulfport Energy (NASDAQ:GPOR) looks quite likely to head towards restructuring after entering into the 30-day grace period for its October 15 interest payments. This is typically a precursor to a restructuring support agreement being worked out by mid-November.
This report looks at Gulfport's potential post-restructuring values using various natural gas prices and multiples, and what impact that has on its common shares and unsecured notes.
EBITDAX At $3.00 Natural Gas
At $3.00 NYMEX gas and 2020 production levels, Gulfport would be able to deliver approximately $912 million in revenues without hedges. This assumes a negative $0.70 natural gas differential and $42 WTI oil.
| | | | |
| --- | --- | --- | --- |
| Type | Units | $/Unit | $ Million |
| Natural Gas (MCF) | 343,917,600 | $2.30 | $791 |
| NGLs (Barrels) | 4,302,133 | $14.00 | $60 |
| Oil (Barrels) | 1,644,933 | $37.00 | $61 |
| Total Revenue | | | $912 |
This would result in a projection of $538 million EBITDAX for Gulfport at $3.00 NYMEX natural gas.
| | |
| --- | --- |
| Revenues | $912 |
| Less: Gathering and Processing | $215 |
| Less: LOE | $57 |
| Less: Production Taxes | $36 |
| Less: G&A | $66 |
| EBITDAX | $538 |
EBITDAX At Various Gas Prices
At $2.50 NYMEX gas instead, Gulfport would deliver $372 million EBITDAX, and at $2.75 NYMEX gas, it would deliver $455 million EBITDAX. Basically Gulfport's EBITDAX would change by approximately $83 million for every $0.25 change in natural gas prices.
| | | | |
| --- | --- | --- | --- |
| NYMEX Gas | $2.50 | $2.75 | $3.00 |
| EBITDAX ($ Million) | $372 | $455 | $538 |
Gulfport's exposure to oil prices is relatively low. Every $5 in WTI oil prices would change its EBITDAX by approximately $15 million, including the associated impact on NGL prices.
Notes On Valuation
Here's a look at how Gulfport would be valued at various gas prices and EV/EBITDAX multiples. At $2.50 NYMEX natural gas and a 3.0x EV/EBITDAX multiple, Gulfport would be valued at $1.116 billion. At $3.00 NYMEX natural gas and a 4.0x EV/EBITDAX multiple, the company would be valued at $2.152 billion.
| | | | |
| --- | --- | --- | --- |
| EV Multiple/NYMEX Gas | $2.50 | $2.75 | $3.00 |
| 3.0x | $1,116 | $1,365 | $1,614 |
| 3.5x | $1,302 | $1,593 | $1,883 |
| 4.0x | $1,488 | $1,820 | $2,152 |
I've assumed that Gulfport ends up with $220 million in credit facility and construction loan debt at the end of 2020. This assumes that it generates some positive cash flow during the second half of 2020, but also largely pays off its significant working capital deficit.
This would leave $896 million in value for Gulfport's new equity at $2.50 NYMEX gas and a 3.0x EV/EBITDAX multiple and $1.932 billion in value for its new equity at $3.00 NYMEX gas and a 4.0x EV/EBITDAX multiple.
| | | | |
| --- | --- | --- | --- |
| EV Multiple/NYMEX Gas | $2.50 | $2.75 | $3.00 |
| 3.0x | $896 | $1,145 | $1,394 |
| 3.5x | $1,082 | $1,373 | $1,663 |
| 4.0x | $1,268 | $1,600 | $1,932 |
I've generally used a 3.5x EV/EBITDAX multiple to value Gulfport. This is close to what it was trading at in early-to-mid 2019 before its unsecured notes started becoming highly distressed.
I've also assumed that Gulfport doesn't need to do a rights offering to pay down its credit facility further. Its credit facility debt is projected to end up at a relatively low level ($200 million) even with the reduction of its working capital deficit.
Recovery Levels
Assuming a 3.5x EV/EBITDAX multiple, the unsecured notes would have a recovery of 58% based on $2.50 natural gas if they received 95% of the new equity. This recovery would increase to 93% using $3.00 natural gas and 100% of the new equity.
While the natural gas strip is above $3.00 for 2021 currently, the strip is around $2.50 to $2.75 in the years beyond that, so I'd consider those prices to be better to use for valuation purposes.
| | | | |
| --- | --- | --- | --- |
| Unsecured % Of New Equity/NYMEX Gas | $2.50 | $2.75 | $3.00 |
| 95% | 58% | 73% | 88% |
| 96% | 58% | 74% | 89% |
| 97% | 59% | 75% | 90% |
| 100% | 61% | 77% | 93% |
For the common shares, getting 3% of the new equity would result in a value of $0.20 per current share at $2.50 natural gas, while at 5% of new equity, the value would increase to $0.52 per share at $3.00 natural gas.
| | | | |
| --- | --- | --- | --- |
| Common % Of New Equity/NYMEX Gas | $2.50 | $2.75 | $3.00 |
| 0% | $0.00 | $0.00 | $0.00 |
| 3% | $0.20 | $0.26 | $0.31 |
| 4% | $0.27 | $0.34 | $0.42 |
| 5% | $0.34 | $0.43 | $0.52 |
Conclusion
Gulfport appears likely (95+% chance) to restructure now that it has entered into the 30-day grace period on its October 15 interest payment. Based on historical valuation multiples, the unsecured notes appear to be reasonably priced (at close to 60 cents on the dollar) for $2.50 longer-term natural gas prices. The percentage of new equity for the unsecured notes doesn't have that much effect on recovery levels, at least not compared to the assumed natural gas prices.
The value of the common shares will depend heavily on what percentage of new equity they receive. Currently the shares are priced for 4% of new equity at $2.50 natural gas or 3% of new equity at $2.75 natural gas.
Free Trial Offer
We are currently offering a free two-week trial to Distressed Value Investing. Join our community to receive exclusive research about various energy companies and other opportunities along with full access to my portfolio of historic research that now includes over 1,000 reports on over 100 companies.
Disclosure: I/we have no positions in any stocks mentioned, and no plans to initiate any positions within the next 72 hours. I wrote this article myself, and it expresses my own opinions. I am not receiving compensation for it (other than from Seeking Alpha). I have no business relationship with any company whose stock is mentioned in this article.
United Airlines: There Are Easier Ways To Make Money (NASDAQ:UAL)
With the capital base now firmed up, United (NASDAQ:UAL) should have sufficient liquidity to withstand any challenges into FY21, but the runway may not stretch too far beyond that, in my view. UAL also remains exposed to a great deal of uncertainty around an international and corporate travel recovery post-COVID, which makes this a rather risky name to own. I like the management team (see my prior bull thesis), but I think the easy money has already been made at this point.
3Q Misses the Mark
United posted 3Q20 adjusted EPS of -$8.16, well below consensus expectations, after accounting for COVID-related adjustments (e.g., ~$415m termination benefits and settlement losses, as well as >$1bn from the CARES Act grant) and other one-offs.

Source: Earnings Release
Driving the EPS miss were revenues down 78% YoY on lower capacity, of which passenger revenues were ~84% lower YoY. Domestic yields were weaker across geographies, down ~12.7% YoY, as United continues to price toward volume. From here, United's loads likely need to improve significantly from the current ~47.8% (-38.3%pts) before airfares can be normalized. Opex was also down ~36% on an adjusted basis, though much of this was down to lower capacity (and fuel).
3Q wasn't all bad though – cargo continues to be a resounding success, with sales rising ~49.6% YoY. Management deserves a tip of the hat here – post-COVID, UAL has been the most active US airline in driving cargo revenue, with >6,500 all-cargo flights now in operation. Now, this won't fully offset passenger revenue declines, but it's a clear step in the right direction.

Source: Earnings Release
4Q Guideposts Look Positive
Looking to 4Q, management offered the following guide – total revenues and passenger revenues down ~67% and 72%, respectively, on ~55% lower capacity. Opex is also guided at down 42%, driving daily cash burn in the $15-20m range (vs. ~$25m in 3Q).
I thought it was interesting that UAL is guiding toward breakeven cash burn ahead of Delta (NYSE:DAL) (recall DAL only expects to breakeven in spring 2021). But given UAL's higher 4Q burn level, this would seem counterintuitive and likely indicates a more optimistic view on the 2021 improvement at UAL (management still expects demand to remain below ~50% of pre-COVID levels pending a vaccine, though). That said, I would not read too closely into these numbers, given the differing cash burn definitions between the airlines.
Liquidity Runway – Not as Extensive as It Appears
For 3Q, daily cash burn was in line with company expectations at $25m, driving a >$19bn liquidity position as of quarter-end. UAL expects to end the year with ~$16-19bn (depending on the CARES Act loan). That all seems good, but I think the United liquidity runway is a lot less extensive than it appears. Given UAL has a ~$2bn bridge maturing in early 2021 (secured by older aircraft), which needs to be repaid, that brings the liquidity position to $15-17bn using end-FY20 guidance. Assuming minimum liquidity is ~$8bn, that leaves an ~$7-9bn cushion relative to the guided $15-20m/day cash burn (i.e., a ~350-day runway in a bear-case scenario).
The Pace of the Corporate Travel Recovery is a Concern
As I outlined in my DAL piece, the outlook for business travel is a concern. Yet, UAL continues to pin its long-term hopes on corporate travel as its "bread & butter" (similar to pre-COVID). The disparity in views around a corporate recovery is telling – UAL believes corporate travel can recover with minimal structural impairment, which compares to DAL guiding toward an ~10-20% impairment. Both companies also differ on the timing – DAL is guiding toward recovery in spring 2021, with a full recovery two years out. This contrasts with UAL's call for a recovery in late 2021 or early 2022, with a return to normalcy by 2024.
On a more positive note though, UAL has been flexible in the interim. Case in point – the company's network is markedly different from its pre-COVID capacity allocation. For instance, UAL continues to add capacity at hubs like Denver and Houston, given the interior hubs are outperforming coastal hubs, as well as point-to-point flying to warm-weather destinations.
Easier Ways to Make Money
Airline stocks are one big unknown (as the contrasting DAL/UAL commentary showed), and post-COVID bounce, I think the risk-reward is a lot less favorable. To be clear, airlines could still bounce along with the industry tide and reopening prospects – in such a scenario, UAL should outperform. That said, UAL's exposure to international and corporate travel puts it at a relative disadvantage to the low-/ultra-low-cost carriers, while its liquidity runway could come under pressure should things take a turn for the worse. Net-net, I am moving to neutral on UAL. Additional risks include competitive pressures, the Boeing (NYSE:BA) 737 MAX re-certification, and a COVID resurgence.
Disclosure: I/we have no positions in any stocks mentioned, and no plans to initiate any positions within the next 72 hours. I wrote this article myself, and it expresses my own opinions. I am not receiving compensation for it (other than from Seeking Alpha). I have no business relationship with any company whose stock is mentioned in this article.