GBP/CHF May Find Weakness Into Year-End, Yet GBP FX Crosses Could Surprise In The Long Term
The GBP/CHF currency pair, which expresses the value of the British pound sterling in terms of the Swiss franc, is continuing to languish around all-time lows in October 2020. The current exchange rate of circa 1.18 compares with all-time highs in Q1 2000 of over 2.70.
Since around 1994, while EUR/USD has established a wide historical range, EUR and USD have perhaps surprisingly both retained a similar degree of strength internationally over the long term. CHF, on the other hand, has outperformed both of these currencies, while EUR and USD have both outperformed GBP. This has resulted in GBP/CHF being one of the worst performers of all FX pairs across G10 foreign exchange.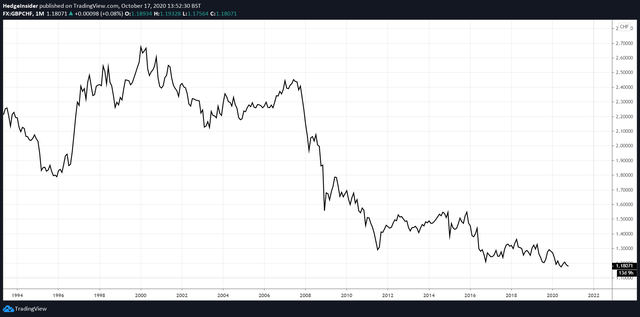 (Source: TradingView. The same applies to price charts presented hereafter.)
Paying more attention to this year, in which we have seen GBP become ever closer to the United Kingdom's year-end deadline to formalize a trade deal with the European Union, GBP has continued its downward trajectory. This Brexit background also coincides with the emergence and after-effects of COVID-19, a pandemic which has erupted and spread across the world, resulting in significant government interventions. Businesses have been locked down and shut down. Consumers have stayed inside. Oil prices have declined while equity prices have, following a crash, managed to reassert themselves on the back of significant global interest rate cuts and monetary stimulus.
GBP/CHF does, however, continue to languish, as CHF remains in high demand while GBP still appears comparatively risky. Yet the latter point is only partly true; while I contest it is true that GBP is trading in a sanguine fashion (perhaps ripe for a correction into year-end), the British currency is still managing to hold its own against USD. GBP/USD started the year just above the 1.30 handle, and currently trades above the 1.29 handle. In spite of a rush on the U.S. dollar which sent GBP/USD down in a flash crash (in March 2020) to as low as the 1.14 handle, the pair is basically unchanged on the year.
EUR/GBP meanwhile does remain elevated, and yet since USD has weakened against EUR this year, this is also arguably about a weaker USD. We have effectively seen a EUR and USD rebalancing this year; these currencies are the two most important world reserve currencies, and EUR has found greater demand after the short-term U.S. target rate dropped to the zero lower bound (between 0.00 and 0.25%) this year. In summary, perhaps to measure GBP sentiment it is better to look at CHF and JPY, both traditional safe havens.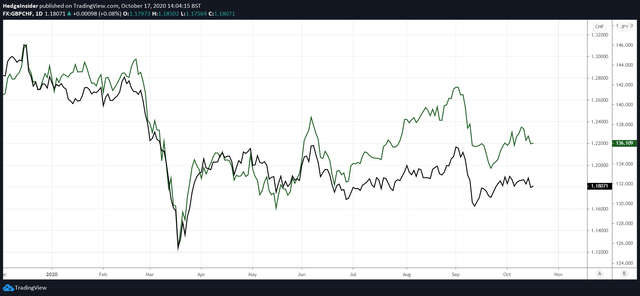 The black line in the chart above presents GBP/CHF. The green line represents GBP/JPY. Both GBP/CHF and GBP/JPY have traded in a similar fashion, revealing weaker GBP sentiment this year. Even as U.S. equities have climbed back to achieve all-time highs following the crash in February and March 2020, these GBP crosses indicate that the British pound sterling is not in wide demand at present. Given the risks of Brexit, especially in this kind of uncertain macroeconomic environment, this makes rational sense.
Sentiment and confidence are important, perhaps more important than any other factor for currencies; confidence is what guides international capital flows, which is what moves currency values. Yet another important factor is the relative purchasing power of currencies, for which we can look to Purchasing Power Parity. The chart below I constructed using both price data and the OECD's PPP model data. The chart reveals that GBP/CHF is trading at rather low levels in relation to its PPP-implied fair value.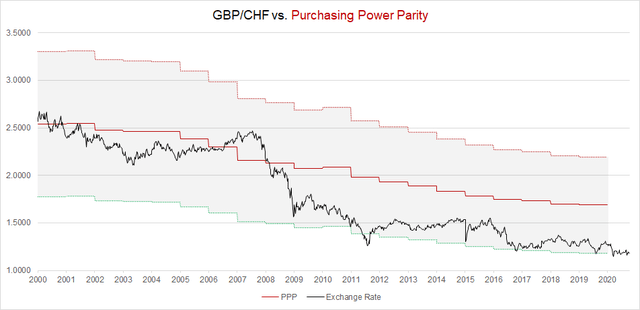 (Sources: Investing.com and OECD)
The red line (in the center) in the chart above indicates the rolling annual fair value estimate based on PPP. The lower and upper bands represent levels that are 30% away from the fair value estimate each year. The most recent estimate is for 2019. If we assume not too much change in 2020, GBP/CHF would appear undervalued, even judging by history. Only in 2011 (since 2000, at least) has GBP/CHF dipped significantly lower relative to the PPP estimate.
GBP/CHF was relatively stable from 2012 to 2015. However, in January 2015, the Swiss National Bank abandoned its EUR/CHF peg, which previously artificially propped up the value of EUR/CHF (at circa 1.20, before the peg was dropped). EUR/CHF moved lower to circa 1.00 (parity) in January 2015, after the SNB made its announcement. The SNB then dropped its short-term interest rate to -0.75% (from zero, previously). In effect, the SNB swapped its large, artificial CHF liquidity provisions for incredibly low interest rates instead.
GBP/CHF strengthened immediately, alongside EUR/CHF. The two pairs then retraced their steps, but in the long term, both GBP and EUR have surprisingly continued to fall as CHF demand has remained high for years. This year has seen a continuation of the same, helped in the case of GBP by even lower interest rates (the Bank of England's rate has dropped from 0.75% to just 0.10% this year, while one-, two- and five-year gilts yield less than zero at the time of writing).
Focusing on this year, we can look to the inflation rates of the United Kingdom and Switzerland, to adjust the short-term rates of these countries' central banks (proxies for FX yields) for inflation. The table below summarizes the findings.

The implied real yield for GBP/CHF has therefore, since the start of year, worsened only slightly. While GBP rates have collapsed, the SNB's rate is unchanged on the year. GBP inflation rates have also declined measurably, which has helped to buffer the loss of the implied nominal yield (although CHF inflation has also dipped firmly into negative territory this year).
All considered, rates are unlikely to be hiked in either country for a long while, and therefore GBP deserves to trade from a weaker base this year, as inflation is much more likely to return to the U.K. than Switzerland (judging from history, and the fact that even this year the U.K. has been able to stave off deflation, at least so far).
As we head into year-end, GBP still looks risky in light of Brexit, while safe havens like CHF look appealing, especially in light of the high macroeconomic uncertainty and the second wave of COVID-19 which remains a latent threat as we head into the winter months. Nevertheless, the prospect of a stronger GBP/CHF becomes an interesting prospect for 2021 and beyond, judging from the pair's PPP value. A catalyst will be needed to change the direction, which might include a combination of the start of a new, robust business cycle (an economic boom) and heavier SNB intervention. Whatever happens, GBP/CHF is probably a pair to watch over the long term.
As I noted in a recent article covering AUD/CHF, I do see the potential for this pair to exhibit the "J-curve" effect; perhaps weak or modest price action over the next few weeks and months, but carrying latent upside potential that is ultimately released when uncertainty is unwound and the global economic picture becomes perceivably more accommodative to spending and investment. It is precisely this kind of economy ("safer", more predictable) that the primarily service-led U.K. economy needs to perform well.
Disclosure: I/we have no positions in any stocks mentioned, and no plans to initiate any positions within the next 72 hours. I wrote this article myself, and it expresses my own opinions. I am not receiving compensation for it (other than from Seeking Alpha). I have no business relationship with any company whose stock is mentioned in this article.
This SPAC Found the Right Fit in CarID By Investing.com
By Christiana Sciaudone
Investing.com — This auto parts company has nary a warehouse in sight, and that's the plan. 
Onyx Enterprises connects customers — mostly comprised of gearheads, for now — to parts distributors via CARiD.com, an e-commerce company it owns and operates. Onyx is poised to go public in a merger with a special purpose acquisition company Legacy Acquisition Corp., which will change its name to PARTS iD, and move from specialty accessories and parts into repair and collision, a market 10-times the size of the one CARiD currently serves.
"There is a lot of competition in the market," said Nino Ciappina, interim general manager at Onyx, in a video interview. "What makes us different is the tech infrastructure, which we purpose-built over the past 10 years."
Here's what CARiD says sets it apart: The technology to source 17 million SKUs — or stock keeping units, aka, individual products — and growing. Compare that to rival Carparts.Com Inc (NASDAQ:), which has about 830,000 SKUs, according to its most recent quarterly report. The rival also boasts more than 840,000-square-feet of warehouse space, and growing.
CARiD's model does not require significant investments in distribution centers or inventory.
There are millions of parts and accessories given how many different models of cars are made each year — this is known as fitment — making servicing the market as a whole a challenge. 
"It creates an incredible amount of friction in this particular industry," Ciappina said. E-commerce solutions that exist aren't built for this kind of multidimensional industry. "We wanted to control the accuracy of the data."
After the reverse merger, CARiD will have up to $55.5 million of cash on the balance sheet to fund future growth and potential acquisitions. The implied pro forma enterprise value is $331.1 million.
CARiD, which estimates it will bring in $401 million in revenue this year, has more than 800 partners and 2,800 shipping locations in the U.S. 
"We can offer a wide selection and get goods to consumers relatively quickly, regardless of what you're ordering," Ciappina said. "Our business model is completely unique."
That was exactly what Legacy Acquisition was looking for. 
Legacy is led by a couple dozen former corporate executives and entrepreneurs, largely African-Americans, with years of experience at places like Procter & Gamble Company (NYSE:), Coty (NYSE:) and Maytag.
Legacy Chief Executive Officer Edwin Rigaud said he has made it a point to get underrepresented groups involved in capitalism.  
"The more talent we can bring to Wall Street, the better off we all are," Rigaud said in the same interview. "There is African-American talent that's been sitting there waiting to do things, and not knowing exactly how to do it. This is my legacy."
Legacy went public in November 2017, raising about $300 million. 
"We have 25-plus experts who know how to look at an opportunity like this and really determine in depth to determine whether it's the right fit for the right company and whether it has growth potential," Rigaud said. "There aren't other Spac teams that are comparable with the expertise that we have."        
CARiD's market specialty equipment and accessories — think, custom rims —  still represents the center of the business, but the focus is on building out product lines like repair that have a higher purchase frequency. After all, how often does one need new chrome rims?
"Our core objective is to win the automotive space, we know that's the much bigger opportunity," Ciappina said. "That is the quickest path to $1 billion in revenue." 
CARiD sees a specialty equipment market of about $46 billion compared to more than $400 billion for the broader industry. That's a lot of a warehouse space — if you need it.
Volkswagen: Significant Upside From Closing The EV Gap (OTCMKTS:VLKAF)
Volkswagen (OTCPK:VLKAF) is the leading global auto manufacturer, with strong, longer-term prospects on the back of its broad core product offerings, scale, and improved cost management. It comes as no surprise to me that Volkswagen has been resilient through COVID-19. However, an underappreciated aspect of VW is the fact that it is also the leading legacy auto manufacturer in the electric vehicle (EV) space.
A review of the EV Virtual Tour event strengthens my belief that the potential for VW's EV volumes and contribution to ramp up is currently being ignored by the market. Valuing VW's projected EBITDA contribution from EVs at a Tesla-like (NASDAQ:TSLA) multiple would yield upside of over 40% from current levels.
Closing the Product Gap
VW ambitiously highlighted its plan to reach a c. 3-4% EV share by 2020 and c. 6-8% by 2021 (up from the sub-1% level in 2019) at its EV Virtual Tour event. The target is underpinned by the following core products – VW ID.3, ID.4, Skoda Enyaq, CUPRA el-Born, and the Audi Q4 e-tron.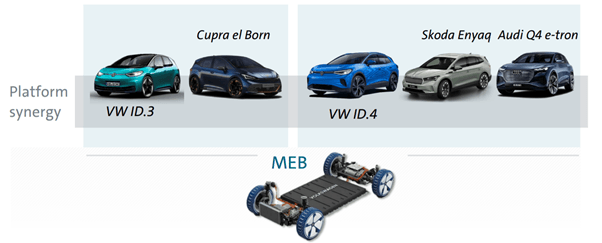 Source: VW Virtual Investors Meeting Slide (E-Mobility)
Interestingly, the ID.3 performs well against peers – according to an ADAC study (cited by VW as seen below), the ID.3 total cost of ownership over a five-year period is c. 12% below that of a Nissan Leaf (OTCPK:NSANY) and c. 21% below that of a Tesla Model 3. Meanwhile, the ID.4 is also expected to price at a c. 16% discount to the Tesla Model Y.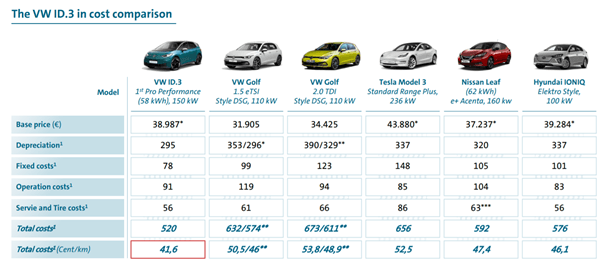 Source: VW Virtual Investors Meeting Slides (ID Sales)
Importantly, VW's first EV (the ID.3) to be built off its MEB platform represents the first of at least six MEB-based models to be launched in the upcoming year. It also means VW's EV product cycle is without precedent and will grant VW the broadest portfolio of BEVs on the market. In other words, competition is coming for Tesla.
Targeting 1 million EVs by 2022/23 and c. 3 million EVs by 2025
In 2022, the goals get even more ambitious – VW is launching the Q5 e-tron, the electric Porsche Macan, and the VW Buzz, which will drive c. 1 million units by 2022 (or 2023 at the latest). If achieved, VW will likely have narrowed (or even closed) the volume gap relative to Tesla.
Looking further ahead to 2025, the company expects to sell up to 3 million EVs/year, which would make it the market leader by far. To achieve this target, VW will require over 150 GWh of batteries in Europe and North America and a similar capacity in Asia. In aggregate, c. 75-80% of EV sales will be contributed by Europe and Mainland China, with Europe set to be the main market at an over 50% share.
Tesla's growth prospects can't be ignored either, but by 2025, VW stands a solid chance of becoming a strong competitor to Tesla. The major strategic difference lies in their focus – Tesla is dependent on the North American market (car and pickup trucks), while VW is focused on selling in China and Europe.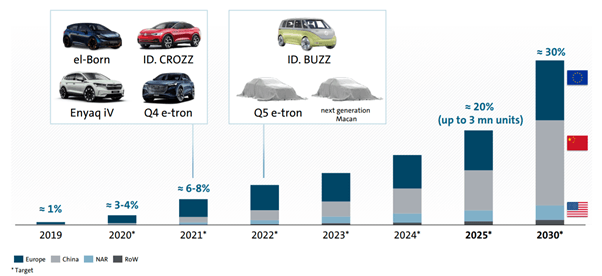 Source: VW Virtual Investors Meeting Slides (Group Sales)
Optimizing the Production Footprint
VW stands to gain from the production side as well – EV production represents an opportunity to streamline the production footprint and move towards multi-brand production plants. By optimizing its production footprint, VW stands to gain from economies of scale. Assuming execution proceeds as planned, VW's Mosel plant could prove to be a major breakthrough in terms of scale, producing Audi, Seat, and VW electrics cars, and highlighting the flexibility in its MEB platform-based production strategy.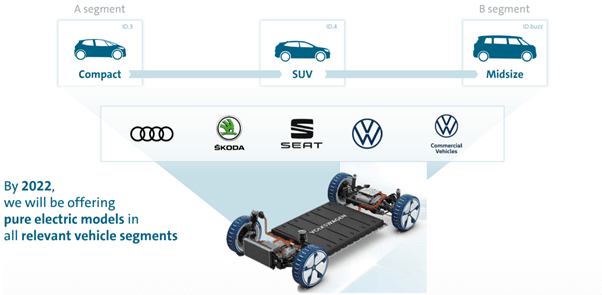 Source: VW Virtual Investors Meeting Slide (E-Mobility)
EVs Could be EPS Accretive
Also notable was VW's confirmation that contribution margins on its EV products are already positive and on par with comparable internal combustion engine (ICE) vehicles. However, operating margins remain subdued due to the high fixed costs and relatively low volumes at present. This should change as VW scales – the ID.4 is expected to match ICE Golf profitability levels, while the Skoda Enyaq should match Octavia profitability, which translates into a c. 3-4% margin for the ID.3 and c. 5-6% for the Enyaq.
While the initial OP margin expectations are modest, I believe EVs can be EPS accretive as VW scales and gains market share going forward. Details are fuzzy at this point, but VW plans to confirm its long-term 2025 group profitability targets with the upcoming planning round. These numbers are crucial – while the quarterly disclosure of EV sales is a step in the right direction, further transparency is key in convincing the market to assign due credit to VW's EV efforts.
Next Step – Closing the Valuation Gap
Like most other legacy auto manufacturers, VW shares are trading at a depressed c. 6x EBITDA multiple, which largely ignores its EV leadership. However, improved transparency and strong execution should eventually drive a re-rating. The opportunity is significant – if we were to value VW's implied EBITDA contribution from the EV lineup at a Tesla-like multiple, for instance, VW shares could be worth upwards of €200/share (over 40% upside to current levels).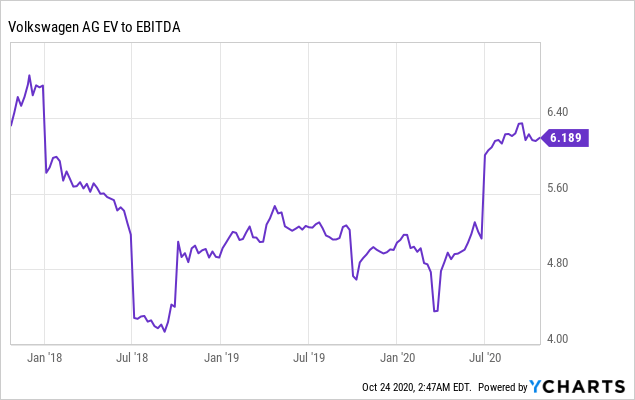 Disclosure: I/we have no positions in any stocks mentioned, and no plans to initiate any positions within the next 72 hours. I wrote this article myself, and it expresses my own opinions. I am not receiving compensation for it (other than from Seeking Alpha). I have no business relationship with any company whose stock is mentioned in this article.
Gulfport Energy Heads Towards Restructuring (NASDAQ:GPOR)
Gulfport Energy (NASDAQ:GPOR) looks quite likely to head towards restructuring after entering into the 30-day grace period for its October 15 interest payments. This is typically a precursor to a restructuring support agreement being worked out by mid-November.
This report looks at Gulfport's potential post-restructuring values using various natural gas prices and multiples, and what impact that has on its common shares and unsecured notes.
EBITDAX At $3.00 Natural Gas
At $3.00 NYMEX gas and 2020 production levels, Gulfport would be able to deliver approximately $912 million in revenues without hedges. This assumes a negative $0.70 natural gas differential and $42 WTI oil.
| | | | |
| --- | --- | --- | --- |
| Type | Units | $/Unit | $ Million |
| Natural Gas (MCF) | 343,917,600 | $2.30 | $791 |
| NGLs (Barrels) | 4,302,133 | $14.00 | $60 |
| Oil (Barrels) | 1,644,933 | $37.00 | $61 |
| Total Revenue | | | $912 |
This would result in a projection of $538 million EBITDAX for Gulfport at $3.00 NYMEX natural gas.
| | |
| --- | --- |
| Revenues | $912 |
| Less: Gathering and Processing | $215 |
| Less: LOE | $57 |
| Less: Production Taxes | $36 |
| Less: G&A | $66 |
| EBITDAX | $538 |
EBITDAX At Various Gas Prices
At $2.50 NYMEX gas instead, Gulfport would deliver $372 million EBITDAX, and at $2.75 NYMEX gas, it would deliver $455 million EBITDAX. Basically Gulfport's EBITDAX would change by approximately $83 million for every $0.25 change in natural gas prices.
| | | | |
| --- | --- | --- | --- |
| NYMEX Gas | $2.50 | $2.75 | $3.00 |
| EBITDAX ($ Million) | $372 | $455 | $538 |
Gulfport's exposure to oil prices is relatively low. Every $5 in WTI oil prices would change its EBITDAX by approximately $15 million, including the associated impact on NGL prices.
Notes On Valuation
Here's a look at how Gulfport would be valued at various gas prices and EV/EBITDAX multiples. At $2.50 NYMEX natural gas and a 3.0x EV/EBITDAX multiple, Gulfport would be valued at $1.116 billion. At $3.00 NYMEX natural gas and a 4.0x EV/EBITDAX multiple, the company would be valued at $2.152 billion.
| | | | |
| --- | --- | --- | --- |
| EV Multiple/NYMEX Gas | $2.50 | $2.75 | $3.00 |
| 3.0x | $1,116 | $1,365 | $1,614 |
| 3.5x | $1,302 | $1,593 | $1,883 |
| 4.0x | $1,488 | $1,820 | $2,152 |
I've assumed that Gulfport ends up with $220 million in credit facility and construction loan debt at the end of 2020. This assumes that it generates some positive cash flow during the second half of 2020, but also largely pays off its significant working capital deficit.
This would leave $896 million in value for Gulfport's new equity at $2.50 NYMEX gas and a 3.0x EV/EBITDAX multiple and $1.932 billion in value for its new equity at $3.00 NYMEX gas and a 4.0x EV/EBITDAX multiple.
| | | | |
| --- | --- | --- | --- |
| EV Multiple/NYMEX Gas | $2.50 | $2.75 | $3.00 |
| 3.0x | $896 | $1,145 | $1,394 |
| 3.5x | $1,082 | $1,373 | $1,663 |
| 4.0x | $1,268 | $1,600 | $1,932 |
I've generally used a 3.5x EV/EBITDAX multiple to value Gulfport. This is close to what it was trading at in early-to-mid 2019 before its unsecured notes started becoming highly distressed.
I've also assumed that Gulfport doesn't need to do a rights offering to pay down its credit facility further. Its credit facility debt is projected to end up at a relatively low level ($200 million) even with the reduction of its working capital deficit.
Recovery Levels
Assuming a 3.5x EV/EBITDAX multiple, the unsecured notes would have a recovery of 58% based on $2.50 natural gas if they received 95% of the new equity. This recovery would increase to 93% using $3.00 natural gas and 100% of the new equity.
While the natural gas strip is above $3.00 for 2021 currently, the strip is around $2.50 to $2.75 in the years beyond that, so I'd consider those prices to be better to use for valuation purposes.
| | | | |
| --- | --- | --- | --- |
| Unsecured % Of New Equity/NYMEX Gas | $2.50 | $2.75 | $3.00 |
| 95% | 58% | 73% | 88% |
| 96% | 58% | 74% | 89% |
| 97% | 59% | 75% | 90% |
| 100% | 61% | 77% | 93% |
For the common shares, getting 3% of the new equity would result in a value of $0.20 per current share at $2.50 natural gas, while at 5% of new equity, the value would increase to $0.52 per share at $3.00 natural gas.
| | | | |
| --- | --- | --- | --- |
| Common % Of New Equity/NYMEX Gas | $2.50 | $2.75 | $3.00 |
| 0% | $0.00 | $0.00 | $0.00 |
| 3% | $0.20 | $0.26 | $0.31 |
| 4% | $0.27 | $0.34 | $0.42 |
| 5% | $0.34 | $0.43 | $0.52 |
Conclusion
Gulfport appears likely (95+% chance) to restructure now that it has entered into the 30-day grace period on its October 15 interest payment. Based on historical valuation multiples, the unsecured notes appear to be reasonably priced (at close to 60 cents on the dollar) for $2.50 longer-term natural gas prices. The percentage of new equity for the unsecured notes doesn't have that much effect on recovery levels, at least not compared to the assumed natural gas prices.
The value of the common shares will depend heavily on what percentage of new equity they receive. Currently the shares are priced for 4% of new equity at $2.50 natural gas or 3% of new equity at $2.75 natural gas.
Free Trial Offer
We are currently offering a free two-week trial to Distressed Value Investing. Join our community to receive exclusive research about various energy companies and other opportunities along with full access to my portfolio of historic research that now includes over 1,000 reports on over 100 companies.
Disclosure: I/we have no positions in any stocks mentioned, and no plans to initiate any positions within the next 72 hours. I wrote this article myself, and it expresses my own opinions. I am not receiving compensation for it (other than from Seeking Alpha). I have no business relationship with any company whose stock is mentioned in this article.