FX options market reflects more confidence in Biden election win By Reuters
© Reuters. Democratic U.S. presidential nominee Joe Biden campaigns in Gettysburg, Pennsylvania
By Gertrude Chavez-Dreyfuss
NEW YORK (Reuters) – Foreign exchange markets are growing less fearful about the outcome of next month's U.S. presidential election, judging by the fall in longer-dated implied volatility on options, the main measure of how much risk is perceived.
Currency options investors are increasingly betting that Democratic challenger Joe Biden will conclusively defeat President Donald Trump, given his lead in prediction markets and national polls.
This can be seen in the fall of some prices for implied volatility, which measures how much the options market believes spot exchange rates will move over a given period and is distinct from actual or realized volatility.
Biden opened his widest lead in a month in the U.S. presidential race after Trump's positive coronavirus test as a majority of Americans believed he could have avoided infection if he had taken the virus more seriously, the latest Reuters/Ipsos poll showed.
Options are widely used to hedge against expected moves ahead of a major event. "Vol" is a key input in the price of an option and can vary for an instrument depending on supply and demand for options and time to maturity. The higher the volatility, the greater the uncertainty over a given term.
Options strategists pointed to flatter implied volatility curves for most currency pairs and said longer-dated volatility, three months and onwards, traded lower than the shorter-dated vols.
This suggested that investors are expecting less chaos and a calmer market weeks after the Nov. 3 election. The three-month volatility extends until December and any view or expectation of turmoil will be reflected in the options pricing for this period.
"The market is assuming that there is a higher probability of a Biden presidency and that there won't be as much uncertainty after the election as the market was previously thinking," said James Rider, research director, at currency advisory firm FXvolResearch in Vancouver, Canada.
The implied volatility used by banks to price three-month options on the dollar's exchange rate against the Japanese yen fell to a two-month low of 7.1% on Tuesday, from a session high of 7.6% on Monday. The three-month vols were also below the one-month level, which hit a six-week peak of 7.7% on Monday.
This was significant, Rider said, because two weeks ago, the longer-dated dollar/yen volatility was higher than the front-end one, suggesting the market was betting on a contested election.
"My interpretation is that a little bit of risk sentiment has been taken out of the market," Rider said.
The decline in back-dated volatility occurred even after Trump's positive coronavirus test on Friday. He left a military hospital on Monday after a three-day stay, saying he felt much better.
Implied volatility on three-month dollar/Swiss franc options at 6.67% was also lower than the one-month vols of 7.0%, which overall reflects bets of a more definitive election result, analysts said. Along with the yen, the Swiss franc has been viewed as a safe haven.
To be sure, one-month volatility on dollar/yen options remained elevated. It hit a four-week high of 7.7% on Monday, but was last at 7.47% on Tuesday.
Stephen Innes, chief market strategist, at online brokerage AxiCorp, said that was probably due to expectations being split between a contested and uncontested election.
"There is still a chance that this election remains a highly contested affair, despite the fact that the market pricing the eventual winner is beginning to narrow to where the polls are. The market always remains very circumspect of polling numbers after prior voting debacles," he added.
Biden's odds on various betting websites have improved in recent days, with Smarkets.com giving the former vice president a 63% chance of winning the election, up from 55% before last week's chaotic presidential debate.
One-month vol on dollar/yen slipped to 7.41% after Trump called off virus-related stimulus talks until after the election.
Dow Jones Pulls Nikkei 225, ASX 200 lower on Alarming Covid-19 Resurgence
DOW JONES, NIKKEI 225, ASX 200 INDEX OUTLOOK:
Dow Jones had its worst day in more than a month amid virus, election and stimulus concerns

US corporate earnings continued to beat forecasts, but failed to lift market confidence

Nikkei 225 and ASX 200 index may lead Asia-Pacific market lower. Ant Financial IPO in focus
Dow Jones Index Outlook:
The Dow Jones Industrial Average (DJIA) index fell 2.29% on Monday, marking its worst trading day since 21st September. A worrying virus resurgence across the US and Europe and a pending US relief package are among the top weighing factors. US corporate earnings continued to fare well, but investors are perhaps looking beyond the current season and assessing a potentially slower pace of growth in the winter.
The US has registered 59,691 new coronavirus cases on October 25th, marking a decline for the second day after hitting a record on 23rd. Yet there appears to be lack of incentive from the government to impose lockdown measures before the US election, rendering risk assets vulnerable to further pullback should coronavirus cases continue to climb.
Map of cases (last 14 days)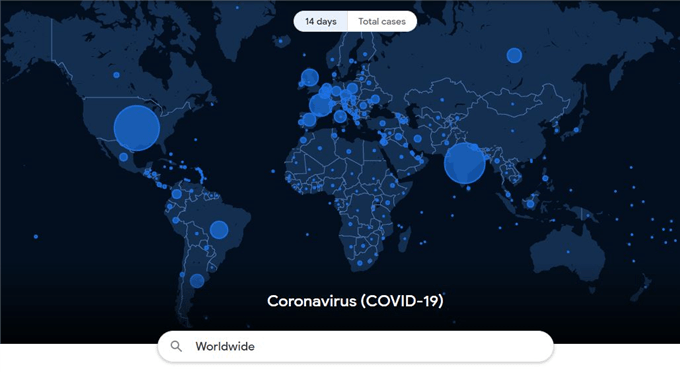 Source: Google
Asia-Pacific stocks look set to trade broadly lower on Tuesday. They may, however, demonstrate resilience against external headwinds. Virus situations are better managed across the Asia-Pacific region, with China remaining a key growth engine. Some 137 new confirmed Covid-19 cases were reported in Xinjiang province on Friday, resulting in a rapid response to test 3 million people in the area.
Chinese fintech giant Ant Financial, possibly the world's largest IPO ever, has been priced at HK$ 80 per share. Ant will be listed in both Shanghai and Hong Kong on November 5th, shortly after the US election.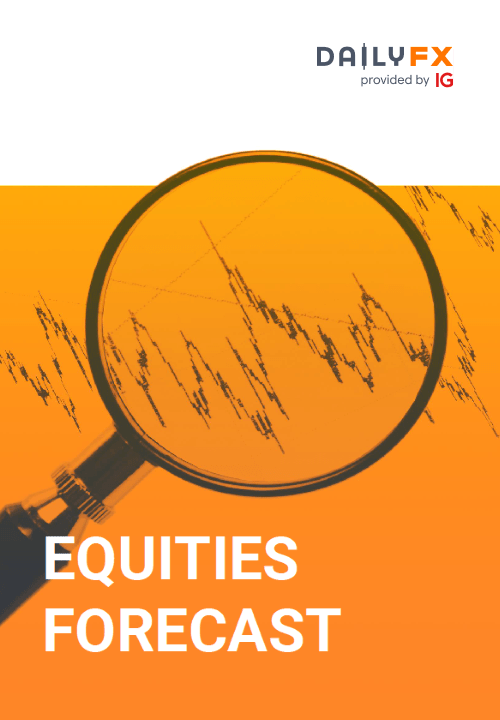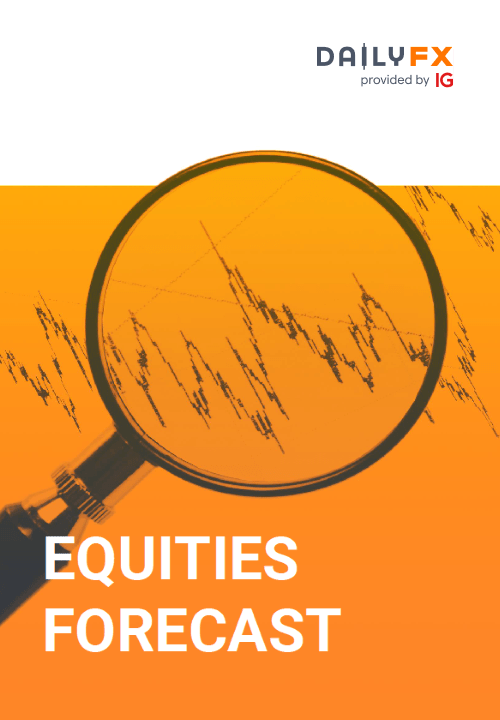 Recommended by Margaret Yang, CFA
What is the road ahead for equities this quarter?
On the macro front, Chinese industrial profits and US durable goods orders and consumer confidence are among the top events. Find out more on our economic calendar.
Sector-wise, all 9 Dow Jones sectors closed in the red, with 96.7% of the index's constituents ending lower on Monday. Industrials (-3.07%), materials (-2.84%) and financials (-2.80%) were among the hardest hit, whereas defensive-linked consumer staples (-1.15%) and healthcare (-1.54%) were performing slightly better.
Dow Jones Index Sector Performance 26-10-2020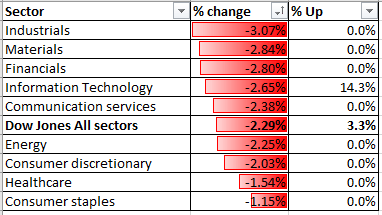 S&P 500 Index Q3 Earnings Update – October 26th 2020
| | | | | | |
| --- | --- | --- | --- | --- | --- |
| Name | Date | Period | Actual | Estimate | Surprise |
| Otis Worldwide Corp | 26/10/2020 | Q3 20 | 0.69 | 0.554 | 24.50 |
| Hasbro Inc | 26/10/2020 | Q3 20 | 1.88 | 1.596 | 17.80 |
| HCA Healthcare Inc | 26/10/2020 | Q3 20 | 1.92 | 2.283 | (16.10) |
| Cincinnati Financial Corp | 26/10/2020 | Q3 20 | 0.39 | 0.39 | 0.00 |
| F5 Networks Inc | 26/10/2020 | Q4 20 | 2.43 | 2.376 | 2.30 |
| Alexandria Real Estate Equitie | 26/10/2020 | Q3 20 | 1.83 | 1.831 | (0.10) |
| Principal Financial Group | 26/10/2020 | Q3 20 | 0.85 | 1.399 | (39.20) |
| Packaging Corp of America | 26/10/2020 | Q3 20 | 1.57 | 1.424 | 10.30 |
| National Oilwell Varco Inc | 26/10/2020 | Q3 20 | (0.02) | (0.117) | 86.60 |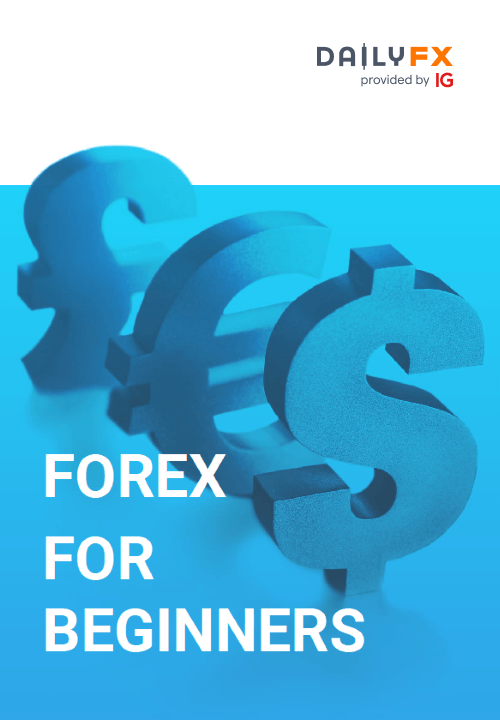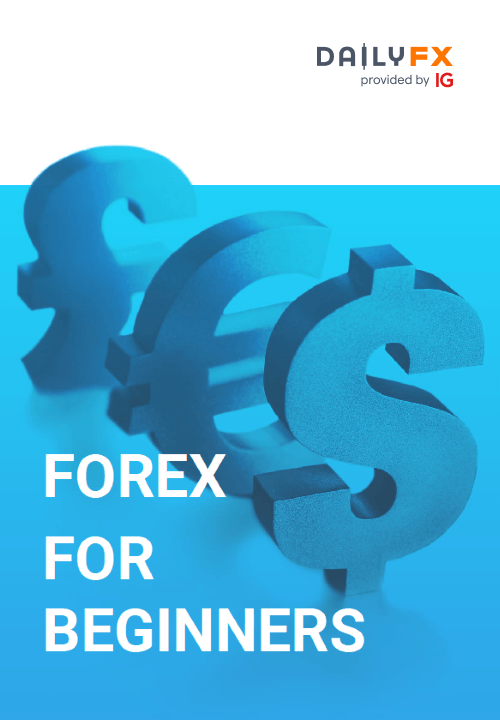 Recommended by Margaret Yang, CFA
Why do interest rates matter for currencies?
Technically, the Dow Jones index has decisively broken down the 50-Day Simple Moving Average line at 28,040 (chart below). Breaking this immediate level may have opened the room for more downside towards the next support levels at 27,755 (the 50% Fibonacci retracement) and then 27,470 (the 61.8% Fibonacci retracement) respectively.
The MACD indicator formed a "Death Cross" last week and prices have been trending lower since. This suggests that bearish momentum is dominating for now. The index price has also pierced through its lower Bollinger Band, signaling strong downward momentum.
Dow Jones Index – Daily Chart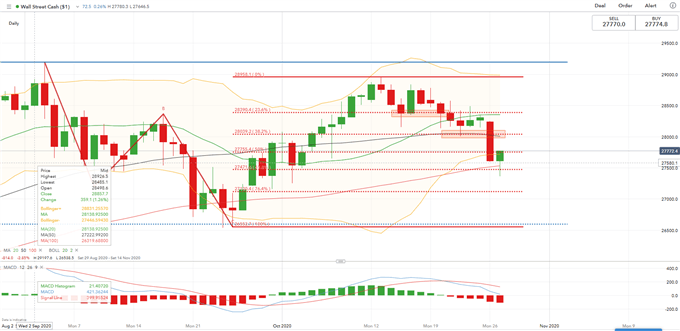 Nikkei 225 Index Outlook:
Technically, the Nikkei 225 index has likely formed a "Rising Wedge" on its daily chart, with the 20-, 50- and 100-Day SMA lines all trending up steadily over the past few months. The Nikkei may risk a temporary pullback against the backdrop of external headwinds, potentially breaking the "Rising Wedge" lower if selloff pressure in the US market persists. An immediate resistance level can be found at 24,000 – the previous high seen in mid-February 2020. The 50-Day SMA can be perceived as an immediate support level.
Nikkei 225 Index – Daily Chart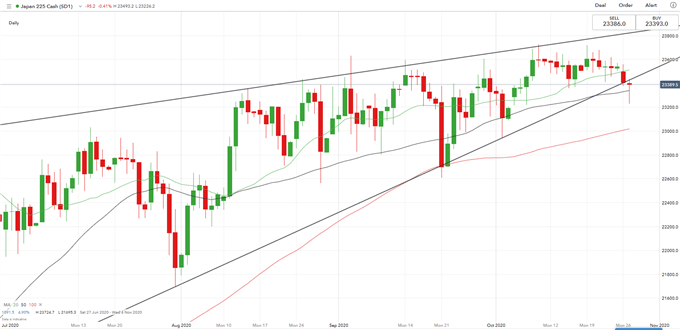 ASX 200 Index Outlook:
Technically, Australia's ASX 200 stock benchmark hit a major resistance level at 6,200 and has retraced since then. The near-term trend appears to be bearish-biased, with the MACD forming a "Dead Cross" recently. Immediate support levels can be found at the 6,000- 6,020 area, where the 50-Day and 100-Day SMA lie.
ASX 200 Index – Daily Chart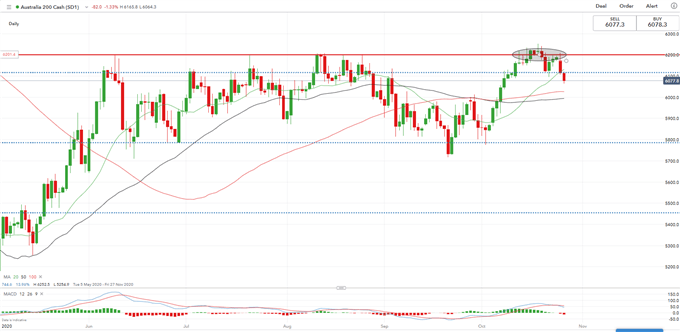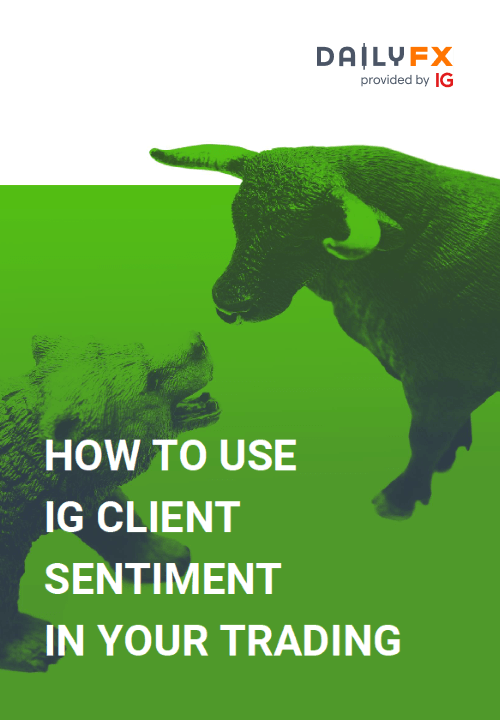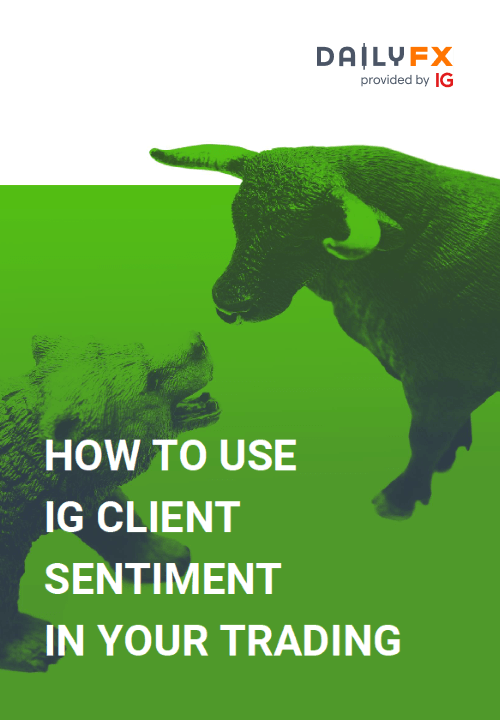 Recommended by Margaret Yang, CFA
Improve your trading with IG Client Sentiment Data
— Written by Margaret Yang, Strategist for DailyFX.com
To contact Margaret, use the Comments section below or @margaretyjy on Twitter
Dollar holds small gains as markets buffeted by COVID-19 woes, election uncertainty By Reuters
By Tom Westbrook
SINGAPORE (Reuters) – The dollar clung to small gains on Tuesday as the greenback's safe-haven appeal was burnished by worries about a second wave of COVID-19, which drove the steepest stock market selloff in a month and underpinned a bond rally.
The United States, Russia and France all hit new daily records for coronavirus infections and overnight the S&P 500 index () fell 1.9% and Germany's DAX () dropped 3.7%.
Moves in the currency market were more muted, though the () lifted about 0.3% overnight and held there early in Asia trade while regional equities fell.
The largest gains for the greenback on Monday came against the (), up 0.4%, which was hit by a drop in German business confidence, and a 0.7% rise on the Canadian dollar as oil prices slumped.
The yuan nursed a 0.5% loss as Sino-U.S. tensions flared over arms sales to Taiwan.
"The dollar is broadly stronger, but not massively," said National Australia Bank (OTC:) senior FX strategist Rodrigo Catril.
Structural forces, like low real yields, have held back further gains, he added, and so has a wait-and-see approach to the U.S. election.
"I think many would probably remember the bad experiences we had going in to the Trump-Clinton election (in 2016)," said Catril.
"If you had a position on, you would have been whipsawed big time. I think the strategy this time is to travel light, and to choose the opportunity on the day rather than take on a very, very strong position going into the election."
The usually risk-sensitive Australian and New Zealand dollars dipped only marginally overnight and were firm in the early part of the Asia session. [AUD/]
The Japanese yen did not move much as U.S. equities sold off, and was steady at 104.76 per dollar in Asia. Sterling slipped overnight but was back above $1.30 on Tuesday.
A week out from polling day, national polls give Democrat Joe Biden a solid lead but the contest is much tighter in battleground states that could decide the outcome.
Biden and President Donald Trump both spent Monday campaigning in Pennsylvania.
Analysts regard a Biden victory, and especially Democrat control of the Senate, as negative for the dollar since it is expected to deliver big stimulus spending that would boost investor sentiment and drive demand for riskier currencies.
Positioning data showed long bets on the yen shrank for a fourth straight week last week, as investors wagered on a Biden victory, though short bets against the yen also fell – pointing to heightened uncertainty around the vote.
The euro nursed losses at $1.1809, having borne the brunt of worries about fresh coronavirus lockdowns and slipping after the German Ifo business climate index fell by more than expected and for the first time in six months in October.
Traders are waiting for any news to emerge from a meeting of China's Communist Party leaders to set the next five-year plan, while keeping a wary eye on the potential fallout from U.S. arms sales to Taiwan.
China said it will impose sanctions on Lockheed Martin (N:), Boeing Defense (N:) and Raytheon (N:).
Elsewhere the Turkish lira hit a record low on Monday amid a slew of geopolitical concerns and as a surprise central bank decision to keep its policy rate on hold last week reveberates through markets.
Dollar Down, U.S.-China Tensions Rise By Investing.com
By Gina Lee
Investing.com – The dollar was down on Tuesday morning, giving up earlier gains. Tensions between the U.S. and China are rising and concerns, and continuing worries over the second wave of COVID-19 drove the steepest stocks selloff in a month and a bond rally
The , which tracks the greenback against a basket of other currencies, edged down 0.11% to 92.942 by 10:31 AM ET (2:31 AM GMT).
On the COVID-19 front, the U.S., Russia and France all set new records for the number of daily COVID-19 cases. There are over 43.4 million cases globally as of Oct. 27, according to Johns Hopkins University data.
Some investors were wary of the dollar's prospects ahead of the Nov. 3 U.S. presidential election.
"The dollar is broadly stronger, but not massively," with structural forces such as low real yields holding back further gains adding to the wait-and-see approach to the election, National Australia Bank (OTC:) senior FX strategist Rodrigo Catril told Reuters.
"I think many would probably remember the bad experiences we had going into the Trump-Clinton election [in 2016] … if you had a position on [the election], you would have been whipsawed big time. I think the strategy this time is to travel light, and to choose the opportunity on the day rather than take on a very, very strong position going into the election," Catril added.
With a week remaining, although polls are giving Democrat candidate Joe Biden a solid lead over President Donald Trump, both men were engaging in some last-minute campaigning in battleground states where the race is tighter.
Some investors view a Biden victory, especially if combined with a Democrat Senate, as negative for the greenback as the Democrats are expected to introduce stimulus measures with big price tags to combat COVID-19, which is expected to improve investor sentiment and boost riskier currencies.
Investors are already starting to bet on a Biden victory, with positioning data showing long bets on the safe-haven yen shrinking for a fourth consecutive week. But a fall in short bets against the yen pointed to increased uncertainty about the election's outcome.
The pair inched down 0.10% to 104.71.
The pair edged down 0.12% to 6.7038. U.S.-China tensions mounted over a potential $2.4 billion sale of U.S. anti-ship missiles to Taiwan, potentially encompassing as many as 100 Harpoon Coastal Defense Systems built by Boeing (NYSE:). The systems in turn include up to 400 land-based missiles China reacted to the news by slapping sanctions on U.S. companies, including Lockheed Martin (NYSE:), Boeing Defense and Raytheon (NYSE:) "in order to uphold national interests," Chinese Foreign Ministry spokesman Zhao Lijian said on Monday. Meanwhile, the Chinese Communist Party will set the nation's next five-year plan within the week.
The pair edged up 0.17% to 0.7134 and the pair edged up 0.1% to 0.6690. The pair inched up 0.10% to 1.3037.
Disclaimer:
Fusion Media
would like to remind you that the data contained in this website is not necessarily real-time nor accurate. All CFDs (stocks, indexes, futures) and Forex prices are not provided by exchanges but rather by market makers, and so prices may not be accurate and may differ from the actual market price, meaning prices are indicative and not appropriate for trading purposes. Therefore Fusion Media doesn`t bear any responsibility for any trading losses you might incur as a result of using this data.
Fusion Media or anyone involved with Fusion Media will not accept any liability for loss or damage as a result of reliance on the information including data, quotes, charts and buy/sell signals contained within this website. Please be fully informed regarding the risks and costs associated with trading the financial markets, it is one of the riskiest investment forms possible.