ECB policymakers wary of following Fed's route on inflation target, sources say By Reuters
© Reuters. FILE PHOTO: Full shelves with fruits are pictured in a supermarket during the spread of the coronavirus disease (COVID-19) in Berlin
By Francesco Canepa and Balazs Koranyi
FRANKFURT (Reuters) – There is reluctance among European Central Bank policymakers to follow the U.S. Federal Reserve's move to target an average inflation rate, fearing this could tie their hands, sources involved in a revamp of ECB policy told Reuters.
The four central bank sources, including members of both the hawkish and dovish wings of the ECB's policymaking governing council, also expressed doubts about whether orthodox inflation theory still applied in economies where prices have long stagnated despite interest rates close to or below zero.
After missing its goal of keeping inflation "below but close to 2%" for a decade, the ECB is reviewing its strategy in the wake of a similar review by the Fed and just as a pandemic-induced recession is pushing euro zone inflation into negative territory.
The euro zone's central bank has been expected to follow the Fed, which said in August it would aim for 2% average inflation over an unspecified period, so that periods when prices grow too slowly need to be compensated by times of faster increases – and vice versa.
But the policymakers who spoke to Reuters feared that going down this route risked encouraging financial markets to jump to the wrong conclusions about future policy decisions based simply on where the average happened to be at a given point in time.
Instead, they wanted to retain the flexibility to judge each situation on its own merits, for instance by playing down the significance of temporary changes in inflation due to swings in the price of oil.
"We want flexibility so an average target would not really give us a benefit," one of the sources said.
An ECB spokesman declined to comment.
With euro zone inflation averaging 1.3% over the past decade and currently negative, they also feared they would be setting the bar too high by explicitly committing to overshooting 2% for long enough to make up for the time spent below target.
"You don't want to create expectations you can't fulfill," another source said.
Furthermore, some of the sources noted that the Fed had had a hard time communicating its new strategy and members of its Federal Open Market Committee were split over how to apply it, leaving some investors and the broader public confused.
SYMMETRY
Most of the ECB policymakers who spoke to Reuters were leaning towards a more general definition, whereby the inflation target is set at 2% over an unspecified medium term.
That would remove the "below, but close to" formulation that has caused ECB-watchers to believe that the bank would prefer to see inflation lower than 2% rather than above that level.
This should be coupled with a renewed commitment to "symmetry", meaning that any undershoot would be taken as seriously as an overshoot, the sources said.
In their view, this would continue to show commitment to the inflation goal while giving rate-setters greater discretion to react to each situation as they see fit, the sources said.
The sources were giving their own opinion and the ECB's Governing Council has yet to discuss this matter formally, meaning any consensus is still a long way off. A fifth source was more open to the Fed's approach, saying it was an option.
The ECB hopes to publish the first conclusions by the end of the year but some involved in the review question whether it will be ready by then.
So far, rate-setters have tackled preliminary questions, such as what role fiscal policy has in helping the ECB achieve its own goals and to what extent globalisation, increased digitisation and ageing populations impacted price behaviour.
One such issue is whether such trends were undermining the validity of the so-called Phillips curve, a widely used theory developed in the late 1950s which states that there is an inverse relationship between inflation and unemployment.
Policymakers acknowledged in their discussions so far that price growth was linked more tenuously to changes in the unemployment rate than in the past as a result of factors beyond central bankers' control, such as cheaper products sourced from around the world as a result of global supply chains.
There was a general agreement that the European Union's new-found willingness to spend, as shown by the 750 billion euro Next Generation fund, was helping the ECB, compared with during the 2010-12 sovereign debt crisis when public purse strings were tightened.
Yandex to launch food delivery services in Israel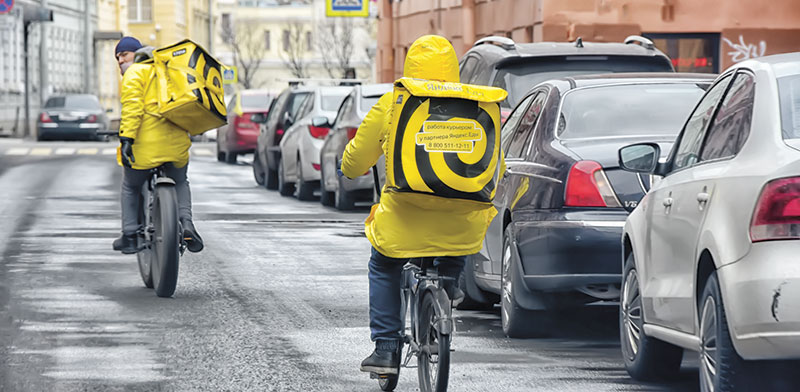 Russian tech giant Yandex is hiring in Israel ahead of setting up food delivery operations in the country, a source close to the matter has told "Globes." Yandex first entered Israel two years ago with its taxi hailing app Yango and has since expanded operations to music services competing with Spotify.
Yandex is a tech giant whose search engine is the Russian language equivalent of Google. Headquartered in Moscow, the company is traded on Nasdaq with a market cap of $20 billion.
The company is now looking to carve out a slice of the lucrative Israeli food delivery market, which has grown enormously during the Covid-19 crisis. Yandex will commence operations in the Tel Aviv area first in the coming days.
Yandex operates two services for food deliveries. Yandex.Lavka for deliveries of supermarket orders and Yandex.Eats for deliveries of restaurant orders. Yandex is expected to start with the Yandex.Lavka service rather than Yandex.Eats, where it will face stiff competition from Finnish company Wolt and local rival Ten Bis, which operate restaurant deliveries.
As part of the Yandex.Lavka service in Russia the company also sells its own food products including fresh fruit and vegetables, dairy products and ready-made meals.
Published by Globes, Israel business news – en.globes.co.il – on October 26, 2020
© Copyright of Globes Publisher Itonut (1983) Ltd. 2020
Transport Minister opposes Tel Aviv Metro
Minister of Transport Miri Regev has told the "Globes" Israel Real Estate Conference" that she is opposed to building the planned Tel Aviv Metro and would prefer to promote infrastructures that would link outlying regions with central Israel.
Regev said, "When I came to the ministry, like most Israelis, I was sure that they were already working on the Metro because people were calling the Tel Aviv light rail the Metro. So let's put things straight. There is a plan for three Tel Aviv light rail lines, which must provide a solution for the Gush Dan region, and there is a plan for a Metro, which will cost NIS 150 billion for the part which is in the planning stages and has been deposited for objections."
She continued, "There are the three light rail lines in Gush Dan, which suffers most from traffic congestion, which will cost NIS 60 billion, and there is a plan for bicycle paths to link up Gush Dan, which will cost NIS 600 million. Therefore, if the (Metro) plan will be put up for implementation, I will oppose it, because I think that at the moment we need to connect outlying regions with the center with an additional railway network in parallel to the coastal railway line. That would bring about a dispersal of the population and employment and move employees from the center of the country to the north and south and to Judea and Samaria."
So at the moment you are against moving forward with the Metro?
"We will deposit the plan. Regarding the time we need to implement it, I'll consult with the cabinet. It's not possible to put all the money in the Dan Metropolitan area, we need to link up Israel and if we want to create new jobs in the north and south and provide a solution for the transfer of the IDF to the Negev, we must invest in accessible and available infrastructures. It is clear that at the moment there isn't money for both.
Instead Regev says that she wants to allocate NIS 100 billion to complete Israel Railways projects including the eastern inland railway line from Rosh Ha'ayin to Lod and extend the railway line northwards from Hadera to Kiryat Shmona and southwards from Dimona to Eilat. 
Published by Globes, Israel business news – en.globes.co.il – on October 26, 2020
© Copyright of Globes Publisher Itonut (1983) Ltd. 2020
IGNITE International Brands, Ltd. Enters Manufacturing Agreement With CannaPiece Corp. to Meet Overwhelming Demand for IGNITE Cannabis Products in Canada
VAUGHAN, Ontario, Oct. 26, 2020 (GLOBE NEWSWIRE) — IGNITE International Brands, Ltd. (CSE:BILZ, OTCQX: BILZF) ("IGNITE" or the "Company"), a global consumer packaged goods brand, is pleased to announce that it has broadened its manufacturing capabilities by signing a contract manufacturing agreement with CannaPiece Corp. ("CannaPiece"), a leading contract manufacturer of cannabis and hemp. CannaPiece operates a 50,000 square foot state-of-the-art licensed manufacturing and processing facility, with ability to expand its operations to 150,000 square feet. The operation includes R&D, Product Development, Third-Party Processing, Packaging, Large-Scale Extraction, Production of Edibles, Topicals and Concentrates with the ability to provide IGNITE Branded products to domestic markets.
"Canada has shown to be a burgeoning market for IGNITE. Collaboration with CannaPiece is a strategic move that will position IGNITE to maximize its potential in the Canadian cannabis market," said Gene Bernaudo, Global Head of Cannabis at IGNITE. "Curating premium craft cannabis and delivering consistent products has gained the loyalty of consumers and has been essential to generating brand awareness as IGNITE continues to scale the country. Demand for IGNITE products has grown since launch and the team at CannaPiece will be instrumental to IGNITE's ability to meet demand and deliver uber-premium cannabis products."
"CannaPiece is excited to be the manufacturing body for IGNITE, and we look forward to leveraging our manufacturing expertise, technology and high-end equipment to offer sustainable high quality cannabis and hemp products to the Canadian market," said Afshin Souzankar, Chief Operating Officer at CannaPiece.
AboutIGNITE
IGNITE is a global consumer brand, operating in the premium product segment of the market. Founded by Dan Bilzerian, the Company's 'quality‐first' approach is fundamental to the brand and its products. Originally operating in the cannabis and hemp‐derived cannabidiol (CBD) wellness space, IGNITE was able to establish its brand awareness. IGNITE product categories now include a full line of CBD oil tinctures, CBD topicals, CBD pet products and CBD vape devices, nicotine and synthetic nicotine vape products, a line of premium performance drinks, named Z‐RO as well as a gluten‐free, seven‐time distilled vodka, and apparel produced by various partners and sold through select distributors, brick and mortar retailers, and online through the Company's website, ignite.co. The IGNITE THC product line, which was launched subsequent to the CBD product line, incorporates quality, locally sourced, cannabis products.
Shares of IGNITE are listed on the CSE under the symbol "BILZ" and quoted in the United States on the OTCQX under the symbol "BILZF".
Further information on IGNITE can be found on the Company's website at ignite.co.
For further information, please contact:
Linda K. Menzel, General Counsel
Tel: 310‐867‐3859
Email: linda.menzel@ignite.co
ABOUT CANNAPIECE CORP.
Headquartered in Pickering, Ontario, CannaPiece Corp. is a wholly-owned subsidiary of CannaPiece Group Inc., a Canadian based, vertically integrated cannabis company. CannaPiece Corp. is a contract manufacturer of cannabis and hemp products and provides the industry with services and products to cover gaps in the supply chain. CannaPiece offers a complete selection of high-quality services ranging from R&D, product development, third-party processing, packaging, large-scale extraction, production of edibles, topicals and concentrates as well as white-labeled products to the Canadian market.
CAUTIONARY STATEMENT REGARDING FORWARD‐LOOKING INFORMATION
This news release includes certain "forward‐looking statements" under applicable Canadian securities legislation. Forward‐looking statements include, but are not limited to, the success of the arrangements with CannaPiece, the ability of IGNITE to distribute its products in Canada successfully and the ability to have a successful market strategy in Canada. Forward‐looking statements are necessarily based upon several estimates and assumptions that, while considered reasonable, are subject to known and unknown risks, uncertainties, and other factors which may cause the actual results and future events to differ materially from those expressed or implied by such forward‐looking statements. Such factors include, but are not limited to: general business, economic, competitive, political and social uncertainties; the effects and impacts of the coronavirus disease (COVID‐19) pandemic, the extent and duration of which are uncertain at this time on IGNITE's business and general economic and business conditions and markets; the ability of IGNITE to give effect to its business plan; reliance on the "IGNITE" brand which may not prove to be as successful as contemplated; the ability to and risks associated with unlocking future licensing opportunities with the "IGNITE" brand, and the ability of IGNITE to capture significant market share. There can be no assurance that any of the forward‐looking statements will prove to be accurate, as actual results and future events could differ materially from those anticipated in such statements. Accordingly, readers should not place undue reliance on forward‐looking statements. The Company disclaims any intention or obligation to update or revise any forward‐looking statements, whether because of new information, future events or otherwise, except as required by law.
NEITHER THE CANADIAN SECURITIES EXCHANGE NOR ITS REGULATION SERVICESPROVIDER ACCEPTS RESPONSIBILITY FOR THE ADEQUACY OR ACCURACY OF THIS RELEASE.