Bear Flag Hints at Continued ZAR Strength
USD/ZAR Analysis:
Short term Bearish flag may support recent ZAR strength

Local and global developments likely to add uncertainty surrounding EM currencies

US elections and renewed optimism regarding the stimulus bill prop up risk events
ZAR Strength Continues for Third Straight Day
The USD/ZAR has traded lower since the Tuesday swing high despite President Trump seemingly reluctant to discuss a new stimulus package. Since then, more positive news has emerged as the administration is keen on agreeing a comprehensive stimulus package.
The daily USD/ZAR chart below highlights the long term downtrend where, more recently, price action has been trading within the broader 17.7500 – 16.0000 range. Such choppy price action may be expected to persist unless price makes a significant move outside of this range followed by continued momentum.
USD/ZAR Daily Chart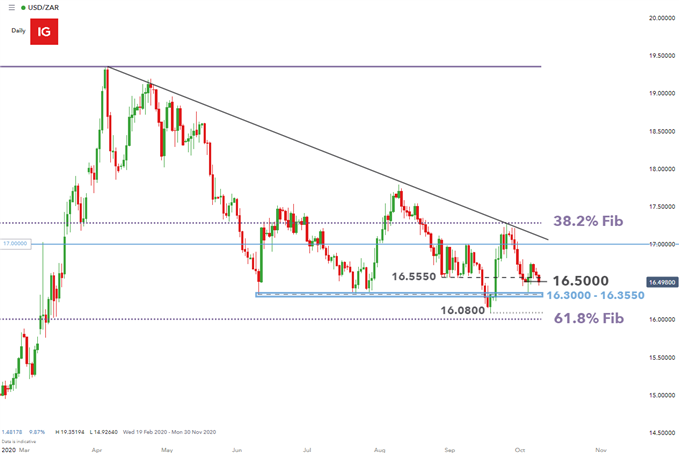 Chart prepared by Richard Snow, IG
Making use of an analytical technique called multiple time frame analysis, we can zoom into the 4 hour price chart to analyze faster price movements, potential trends or price patterns that may be developing under the surface.
The 4-hour chart highlights what appears to be a bearish flag pattern. This pattern starts with price action moving sharply lower, followed by a temporary higher prices that form a flag before price continues to break below the flag and continue trading lower.
USD/ZAR 4-Hour Chart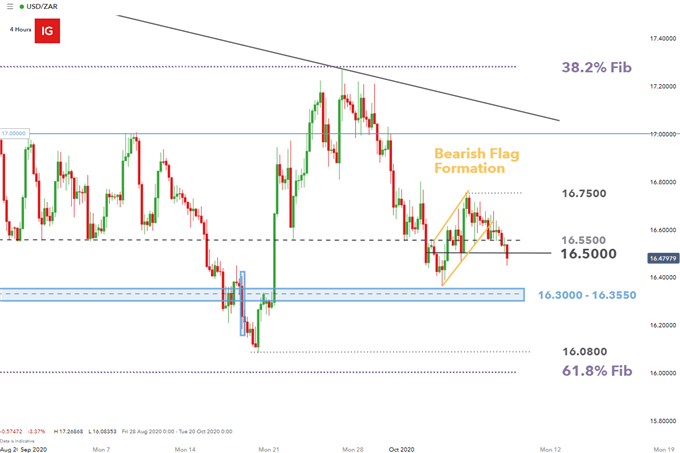 Chart prepared by Richard Snow, IG
Learn how to identify and apply the bearish flag pattern to your trading charts
Bearish Flag Pattern: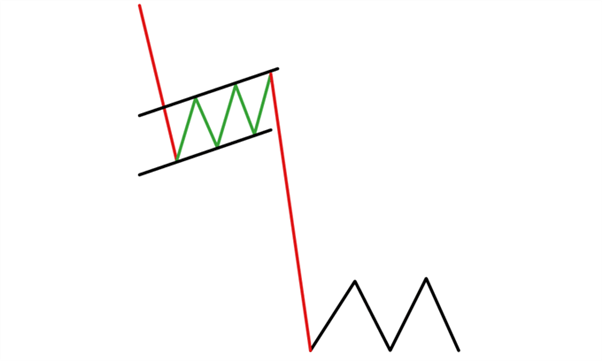 Chart prepared by Richard Snow, IG
Key UZD/ZAR Technical Levels
Price has broken below the 16.5000 psych level which opens up the possibility for continued ZAR strength. Furthermore, should the bear flag play out, the first level of support comes in at the zone of support (16.3000 – 16.3550) highlighted in blue, followed by the previous low of 16.0800. Further momentum may then bring into play the 61.8% Fib (drawn form the Jan low to the April high).
However, should market sentiment sour, resulting in capital flight away from EM currencies, there may be a continuation of the choppy price action seen in previous months. A close above the 16.5000 level may spur a move towards the Tuesday high and possibly even the 17.0000 psych level before the 38.2% Fib level becomes resistance.
Starts in:
Live now:
Oct 12
( 12:10 GMT )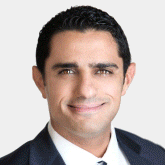 Discover shor-term scalping techniques for the week ahead
Weekly Scalping Webinar
Local and Global Developments at Play
US elections
Going into the election the US Dollar is the most short as it's been in over a decade just one month away from the election. Historical data hints at a reversion to a more neutral stance in USD as the time horizon shortens, which could result in a USD short squeeze (detrimental for the ZAR).
Fiscal stimulus
There has been a recent swing in sentiment regarding the proposed stimulus bill even though President Trump advised his negotiation team to walk away from talks until after the elections. Treasury Secretary Steven Mnuchin communicated that Trump is seeking agreement on a comprehensive stimulus package in a call with Nancy Pelosi, Speaker of the House of Representatives.
South African coronavirus statistics
South Africa has the highest number of COVID-19 cases in Africa. Although numbers have plateaued, the fact remains that the country could see future lockdown measures akin to Europe. However, as vaccine expectations rise, the Rand may be in for further strength should a vaccine be produced sooner rather than later, sparking risk-on flows.
South African Mid-Term Budget Speech
Finance Minister Tito Mboweni is scheduled to deliver the mid-term budget speech later this month. He will have his work cut out for him as SA is currently dealing with increasing levels of public and private debt, struggling state owned enterprises (mainly, SAA and Eskom) and a slowing economy, all of which have all been exacerbated by the economic impact of the coronavirus.
Be sure not to miss any scheduled risk events that may add to future levels of volatility via our DFX Economic Calendar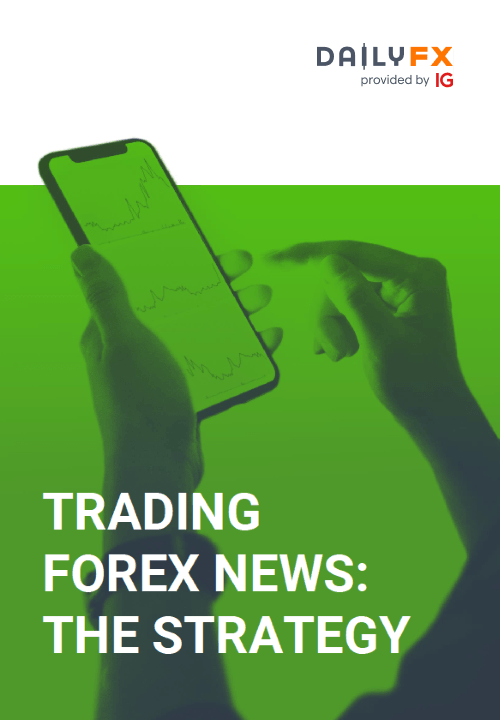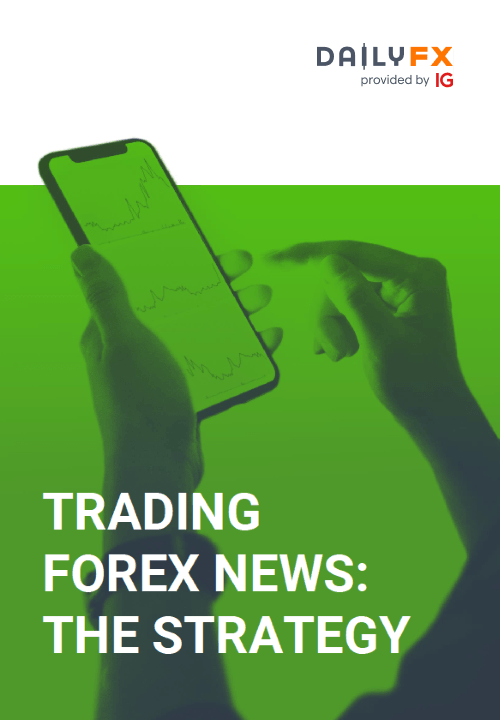 Recommended by Richard Snow
Learn how to prepare and trade on news
— Written by Richard Snow for DailyFX.com
Contact and follow Richard on Twitter: @RichardSnowFX
Move over bonds, FX taking over as investors' new favourite playbook By Reuters
© Reuters. FILE PHOTO: A U.S. dollar note is seen in front of a stock graph in this picture illustration
By Tommy Wilkes and Saikat Chatterjee
LONDON (Reuters) – A dearth of action in fixed income markets is prompting bond investors to focus more on currencies to spot market trends, marking a turning point for the gigantic but generally murky foreign exchange markets.
Buying bonds at the rate of roughly $2 billion per hour in the wake of the COVID-19 pandemic, central banks have crushed volatility and reduced its efficacy as a signalling instrument.
While the collapse in interest rate differentials should lead to a fall in currency price swings, as rate changes and their relative levels are major drivers for exchange rate moves, investors say the lack of these two factors is making currency markets more volatile.
This has major implications from investors to central banks because the former express their views on the economic outlook or major events via the bond markets, which the latter use as a key tool for the transmission of their monetary policy.
If the bond markets are broken, then currencies provide an alternative, investors say.
"It is early days but anecdotal evidence from some client conversations suggest that they are looking at currencies as an asset class to predict market trends compared to earlier when discussions would be on what the bond markets are predicting," said Robert Mcadie, chief cross-asset strategist at BNP Paribas (OTC:).
A State Street (NYSE:) index of prices of various goods across different currencies show volatility is rising for a range of currencies including the U.S. dollar, , euro and the British pound.
More broadly, currency market volatility <.dbcvix> has risen from a 1-1/2-year low hit in late July while overall bond market volatility <.move3m> remains near 2020 lows.
The rise in currency market volatility comes after at least five years of calm when major currencies held within tight ranges.
(Graphic: JAPAN BUYERS OF BONDS link: https://fingfx.thomsonreuters.com/gfx/mkt/oakvenngypr/Bond%20vol%20graphic%202.JPG)
NUMBED
With interest rate markets numbed and an environment where central bank inflation targets are becoming looser, bigger moves in currencies will be more common as forex markets will increasingly bear the primary burden of reflecting large macro-economic trades or major event risks like the U.S. elections.
For example, volatility in the widely watched bond volatility index () is a third of what it was around the 2016 U.S. elections.
Owen Murfin, an institutional fixed income portfolio manager at MFS Investment Management, a $528 billion fund, said it is "far more flexible to express your views" in forex markets than in rates.
Murfin, who said he has been "pretty active" trading the Norwegian Crown versus the U.S. dollar, is bullish on an economic recovery for the oil-exporting nation.
He said the Norwegian bond market can be too small and relatively illiquid to express such views, and volatility there is low.
That view is shared by Oliver Boulind, a senior fixed income portfolio manager at HSBC Asset Management who allocated more risk to Latin American currencies including the Chilean, Mexican and Colombian currencies in the summer than their bond markets.
As bond investors switch to currencies, policymakers are following.
Take the euro for example. Since the European Recovery Fund was announced on May 18, the euro has rallied more than 10% versus the greenback with relative bond yields barely changed even though the news was primarily about debt mutualisation.
That has prompted the European Central Bank to become more vocal about the strength of the currency in recent days.
It is also reflected in tightly controlled currency markets like China where the yuan climbed to 27-month highs this week while bond yields remain largely contained, as investors bet on the outcome of the U.S. elections.
Sentifi, an alternative data provider, say the relative success of the Chinese authorities to deal with the pandemic is also fuelling yuan gains.
WAIT & WATCH
To be sure, switching from bonds to currencies is not easy. They are far more volatile than interest rates with 1%-2% daily swings a common occurrence – large by the standards of bond investors who are accustomed to relatively tiny yield moves.
But that is not deterring investors. Data from Bank of America Merrill Lynch (NYSE:) shows the correlation of FX trading flows on their trading platforms to currency market swings is increasing, suggesting low bond market volatility is pushing more bond investors to currency markets.
The growing contrast between calm bond markets and the edginess in currencies is also changing the behaviour of so-called "carry trade strategies" where overseas buyers of U.S. debt would typically leave currency risk embedded in such trades unhedged because of the expensive hedging costs.
But with interest rates skirting zero in the developed world and volatility absent, Japanese buyers of U.S. and European debt are increasingly hedging FX risks because the after-hedged returns of buying such bonds are now in positive territory.
For example, Japanese investors bought a net 1.946 trillion yen of U.S. bonds in the week of Oct 4-10, according to Ministry of Finance data, the second-biggest weekly buying this year.
"The interest from our clients in FX has never been higher. But there is a wait & see approach from some investors. Do you want to put new capital to work before Nov. 3? Probably not," said Russell LaScala, co-head of global FX division at Deutsche Bank (DE:) referring to the date of the U.S. Presidential election.
(Graphic: RATES FX VOLATILITY link: https://fingfx.thomsonreuters.com/gfx/mkt/azgpojjwyvd/Bond%20vol%20Graphic%201.JPG)
Nasdaq 100, DAX 30, Nikkei 225 Forecasts Ahead of Big Tech Earnings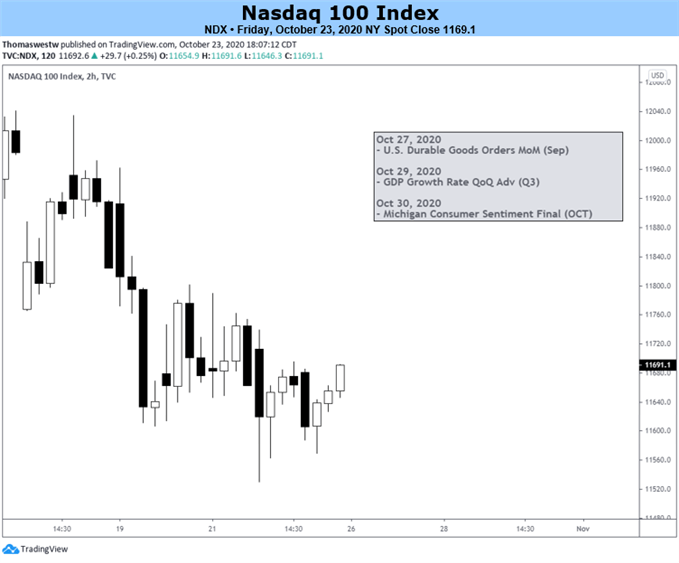 Chart created with TradingView
Nasdaq 100, DAX 30, Nikkei 225 Forecasts: Neutral
The Nasdaq 100 eagerly awaits earnings from Apple, Amazon, Facebook and more
The Nikkei 225 will set its sights on the fast-approaching interest rate decision from the Bank of Japan
Nasdaq 100 Forecast
Outlook: Neutral
Earnings season is in full swing and the week ahead will see the release of quarterly reports from some of the world's largest publicly traded companies. Apple, Amazon and Facebook are scheduled to report after Thursday's close, a set of stocks that collectively account for more than 27% of the entire Nasdaq 100. Blue chip names like Boeing, General Electric, Pfizer and Ford will also report next week, but the speculative appetite in the big-tech names should afford them the most influence and market-moving potential.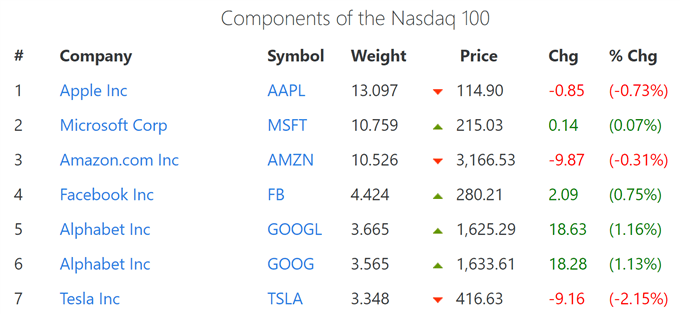 Source: Slickcharts
To that end, market participants have high expectations for the FANGMAN group given their lofty share prices and after their blowout reports last quarter. Therefore, stocks like Apple, Amazon and Facebook will be highly scrutinized and could see a less-than-perfect report result in a seemingly drastic price decline.
Nasdaq Trading Basics: How to Trade Nasdaq 100
Either way, forecasting directional moves following an earnings report is incredibly difficult, so strategies that can benefit from heightened implied volatility may be ideal at this stage.
Nasdaq 100 Price Chart: 4 – Hour Time Frame (September 2020 – October 2020)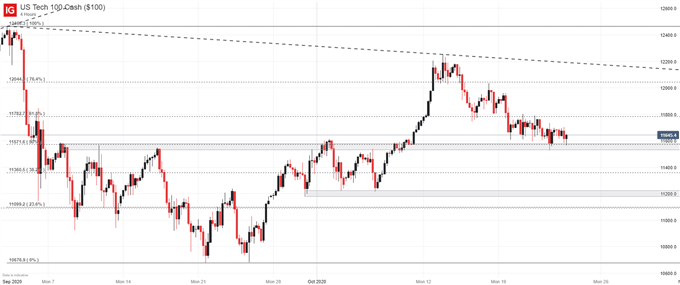 Regardless, the Nasdaq 100, Dow Jones and S&P 500 may wait to stage serious moves until the Presidential election has passed. Given the massive uncertainty surrounding the vote, many traders are likely hesitant to hold significant exposure ahead of such an important event. It could be argued post-earnings price moves might be hampered to some degree, at least until the political landscape has returned to more stable footing.
DAX 30Forecast
Outlook: Bearish
The DAX 30 is set to receive more traditional economic data in the form of Euro area and German GDP readings followed by an ECB rate decision. Struck with another coronavirus wave, Europe may be on pace to disappoint growth forecasts as a slowdown was already hinted at by economic figures toward the end of the prior quarter.
DAX 30 Price Chart: 4 – Hour Time Frame (June 2020 – October 2020)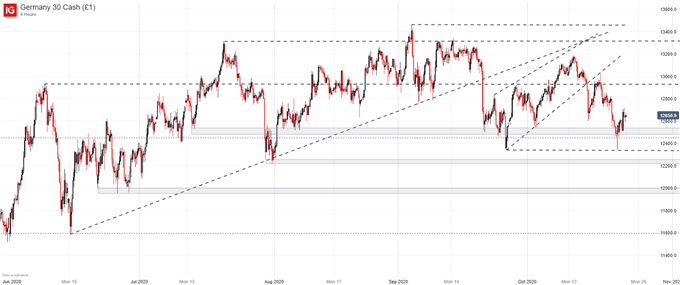 The DAX might take notice of a poor result, but I would suspect a GDP-miss might already be priced in to some degree. Nevertheless, the DAX seems tilted to the downside in the week ahead. In the meantime, follow @PeterHanksFX on Twitter for updates and analysis.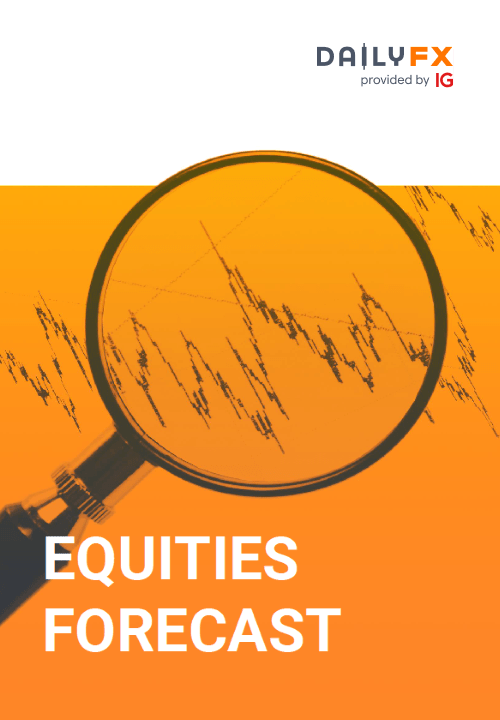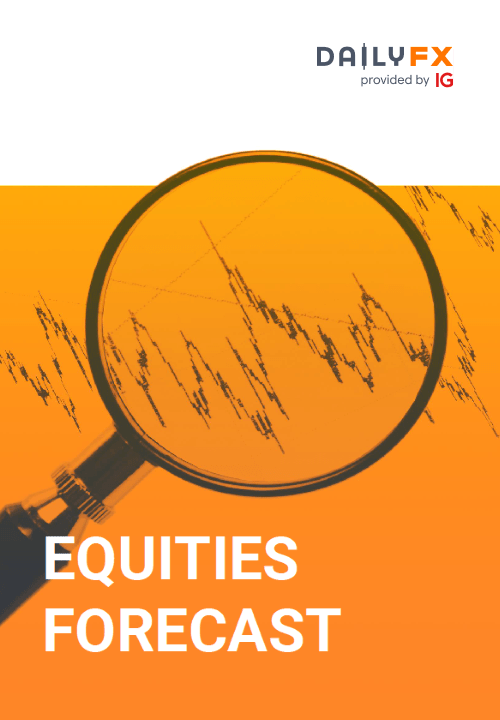 Recommended by Peter Hanks
Get Your Free Equities Forecast
Nikkei 225 Forecast
Outlook: Neutral
Shifting our focus to the Japanese Nikkei 225, traders will have their hands full with an upcoming interest rate decision from the Bank of Japan. After staging an admirable recovery from the coronavirus, Nikkei 225 gains have slowed to a crawl and the index has made little progress since early September. While the upcoming BOJ meeting will likely see a continuation of the norm for Japan's monetary policy path, the lack of progress might suggest the Nikkei 225 is awaiting a broader uptick in risk appetite.
Nikkei 225 Price Chart: Daily Time Frame (November 2019 – October 2020)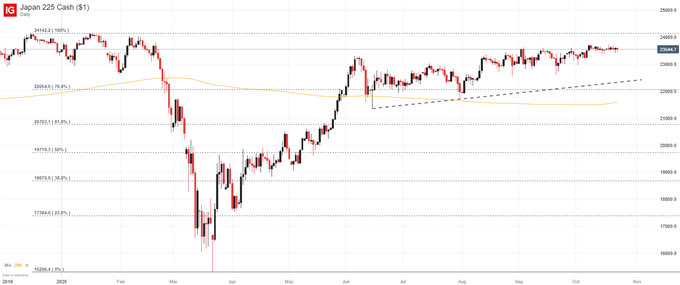 With that said, the Nikkei might track moves in US indices as they await earnings and the looming Presidential election. Since little change is expected domestically in Japan, these outside factors could very well deliver the spark required to push the Nikkei above its recent highs. Still, the outlook remains encouraging. Until these outside issues are resolved, however, the forecast remains neutral or cautiously bullish.
–Written by Peter Hanks, Strategist for DailyFX.com
ECB Meeting to Determine Next Major Move in EUR/USD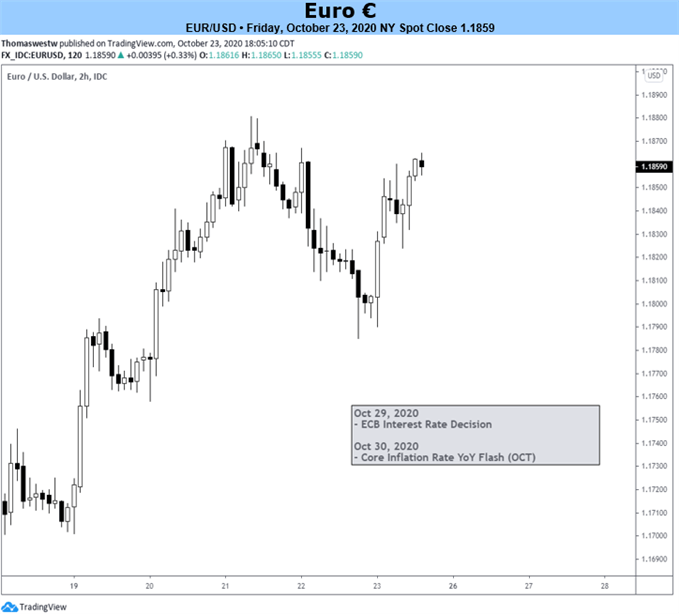 Chart created with TradingView
Fundamental Euro Forecast: Neutral
The European Central Bank's Governing Council meets this coming week and its statement Thursday, followed by its President's news conference, will likely be important in determining the Euro's direction over the next month or so.

The ECB will leave all its monetary settings unchanged but President Christine Lagarde could well start preparing the markets for a further easing of monetary policy in December.

Meanwhile, there are few signs of a breakout from the broad 1.16 to 1.20 range for EUR/USD that has confined the pair since mid-July.
ECB Meeting Critical for EUR/USD
The statement Thursday at the end of the next meeting of the European Central Bank's Governing Council, and the subsequent comments by ECB President Christine Lagarde at her news conference, will be critical in determining the future direction of the Euro.
There will be no changes in interest rates or Eurozone monetary policy this coming week but Lagarde could hint at a further policy easing as early as December – a move that could weaken EUR/USD and the Euro crosses. The problem is that the Governing Council seems split on the issue.
Some members seem willing to act, fearing a "double dip" in the Eurozone economy as GDP falls again after a brief respite, hit by a second wave of Covid-19 infections that forces more countries and regions into lockdown. Easier monetary policy might help alleviate the resulting economic impact, help lessen deflationary pressures in the Eurozone and offset any damage to the region's trade caused by the Euro's advance since EUR/USD hit a low under 1.07 in March.
Others, though, seem more circumspect, worried that after hitting its highest level for more than a month last week EUR/USD may be vulnerable to a setback. There may also be concern about hinting at easier monetary policy so close to the US Presidential election and that more wary view seems to be that of the markets, where pricing suggests the rate on the ECB's deposit facility will be minus 0.6% by the end of next year, only marginally below the current minus 0.5%.
You can find an FX traders' guide to the ECB by clicking here
Putting all these factors together suggests that EUR/USD will continue to trade for a while yet in a broad range between the September 1 high at 1.2011 and the September 25 low at 1.1611.
EUR/USD Price Chart, Daily Timeframe (July 22 – October 22, 2020)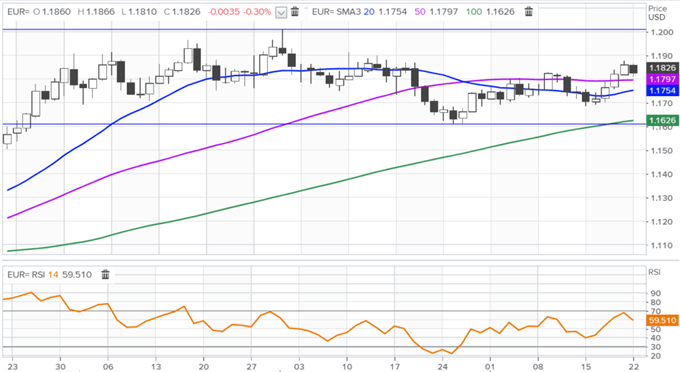 Source: Refinitiv (You can click on it for a larger image)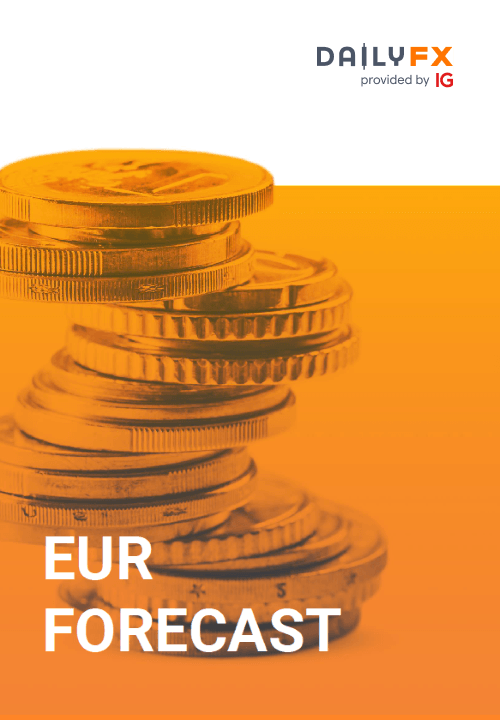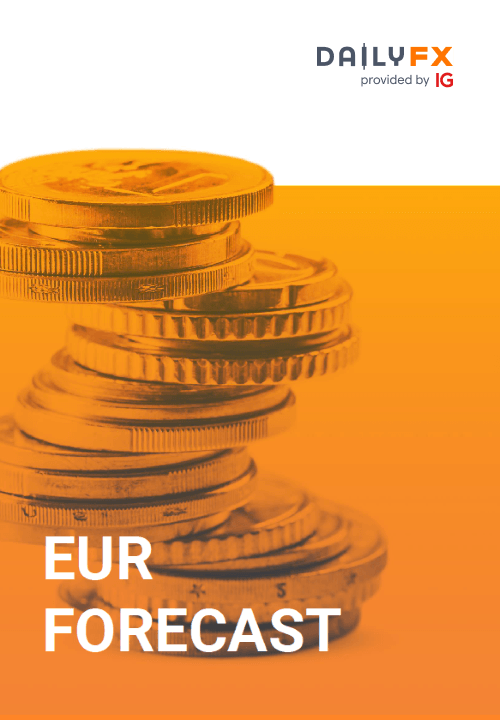 Recommended by Martin Essex, MSTA
Download our fresh Q4 Euro forecast
Week Ahead: Data Also Important for EUR/USD
Turning to the economic data on the calendar, the week ahead is a busy one, with German inflation and unemployment figures due Thursday, followed by Eurozone inflation and GDP numbers Friday. Both the German and the Eurozone price data could show steeper falls – emphasizing the ECB's concerns about deflation – while the GDP data for the third quarter will likely show a strong rebound.
That would do little though to ease double dip concerns so more important might be Monday's Ifo index of the German business climate in October, the first month of the fourth quarter, and it would be no surprise if that were weaker than in September.
Starts in:
Live now:
Oct 27
( 10:10 GMT )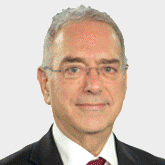 Recommended by Martin Essex, MSTA
Trading Sentiment
We look at currencies regularly in the DailyFX Trading Global Markets Decoded podcasts that you can find here on Apple or wherever you go for your podcasts
— Written by Martin Essex, Analyst
Feel free to contact me on Twitter @MartinSEssex